Minister of State and NI Justice Minister visit Lough Erne
Mike Penning and David Ford were in County Fermanagh to hear about preparations for June's G8 Summit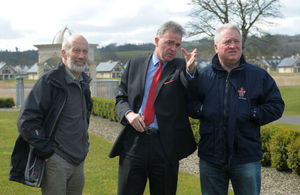 Minister of State at the Northern Ireland Office Mike Penning yesterday (26 March) made his first visit to the setting for this year's G8 Summit in County Fermanagh. He was accompanied by the Northern Ireland Justice Minister David Ford.
The Ministers met representatives of the Police Service of Northern Ireland and Fermanagh District Council to hear about about preparations for the June Summit, including the security measures being put in place to ensure a safe and secure venue.
They were given a tour of the Lough Erne Resort by the hotel manager Ferghal Purcell, who talked about the positive impact the Prime Minister's decision to host the Summit at the resort has had on the area, and the potential benefits it will bring for years to come.
Published 27 March 2013