Press release
Minister launches online Gift Aid service
Claiming Gift Aid repayments will now be quicker and easier for charities and sports clubs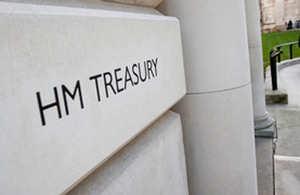 Claiming Gift Aid repayments will be quicker and easier for charities and sports clubs from now on, Sajid Javid, Economic Secretary to the Treasury, said today (22 April 2013).
He was visiting Alzheimer's Society in London to launch Charities Online, a new system that allows charities to claim Gift Aid repayments online. The Economic Secretary was shown round by Matthew Sellen, the charity's Director of Corporate Resources, and George McNamara, Head of Policy and Public Affairs. He met staff and pressed the button on an online Gift Aid claim as the new system became available to charities around the UK.
From today, the UK's 87,000 charities and Community Amateur Sports Clubs (CASCs) that claim Gift Aid can enroll to make repayment claims online, through the HM Revenue and Customs (HMRC) website.
Sajid Javid said:
The charity sector provides an invaluable service to millions of people across the country and we are committed to helping it maximise funding from donations through Gift Aid. Charities claim around £1 billion per year through the relief.
Charities Online will simplify and speed up the Gift Aid claim process, and allow charities to focus on the real work of helping people in the UK and around the world.
Liz Monks, Director of Fundraising at Alzheimer's Society, said:
Gift Aid is a vital way for charities to maximise their income. We have seen over the years how this source of income is a lifeline for many causes, yet up until now the process for actually claiming it has been fairly burdensome and lengthy. The new online system will streamline this process and allow charities to make more accurate and faster claims.
However, the charity sector is varied and the transition to the new system will require different levels of effort for everyone to be ready in time. We encourage other charities to start getting to grips with Charities Online soon, as the old system will be phased out in September. We hope that Alzheimer's Society leading this work will help others across the sector. We will all benefit in the long term from being able to claim more efficiently.
Charities can find out how to use the system from the HMRC website.
Separately, the Gift Aid Small Donations Scheme (GASDS) has also gone live this month. It allows charities and CASCs to claim top-up payments on cash donations of £20 or less without the need to collect Gift Aid declarations. Charities will generally be able to claim payments on small donations of up to £5,000 each year.
Notes for Editors
As charities may need time to adapt to the changes involved in claiming online, HMRC will accept the existing R68(i) print and post claim forms until 30 September 2013.
Published 22 April 2013