Minister in South Korea and Vietnam to discuss surging trade relations with Asian partners
Minister Fairhead's visit will strengthen UK trade relationships and ensure trade continuity post-Brexit.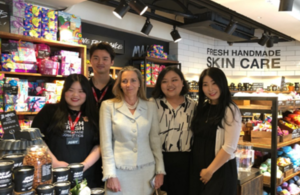 International Trade Minister Baroness Rona Fairhead is visiting South Korea and Vietnam from July 4th, to support British businesses and build on surging global trade relations to create further export opportunities as we leave the EU.
Baroness Fairhead will visit Seoul to celebrate the UK's world-class tech industry at the 4IR Conference; promoting UK skills in new growth sectors including AI, smart cities, digital health and connected cars. The conference will also allow future opportunities for collaboration and the development of innovative technologies, creating jobs in both countries.
In Vietnam, Minister Fairhead will be driving forward English education in the country, signing a Memorandum of Understanding after meeting with Professor Phung Xuan Nha, Vietnam's Minister of Education and Training. This will showcase the UK's world leading capacity for English teaching and learning, supporting Vietnam in meeting its ambitious goals in developing the English language nationwide.
Minister of State for Trade and Export Promotion, Baroness Fairhead, said:
I am delighted to be visiting South Korea and Vietnam, 2 proud nations which in recent years have seen trade relations surge with the UK. I want to make clear that there are many more opportunities for UK businesses to export and increase bilateral trade which, in turn, will create mutual prosperity, growth and jobs.

Last year, UK global exports rose 9.2% to £628.8 billion, highlighting the success the Made in Britain brand has enjoyed across Asia and other fast-growing parts of the world.
Almost 25,000 UK businesses export to the ASEAN-4 (Singapore, Malaysia, Thailand and Vietnam) alone — making the grouping the UK's second-largest global export destination, after the United States. The minister will be meeting with senior business leaders to highlight the many opportunities for increased trade between the UK and ASEAN.
Britain and Korea are 2 of the most business-friendly nations on earth and already enjoy a fruitful commercial relationship. The UK is Korea's fifth largest foreign direct investor, and more companies than ever are keen to expand their operations and invest in Korea. Trade in goods and services between the UK and Korea increased almost 65% to £11.1 billion since the EU-Korea FTA came into effect in 2011.
Published 5 July 2018