World news story
Minister Hugo Swire visits Rahab Foundation
British Minister of State learns about the work of this Costa Rican NGO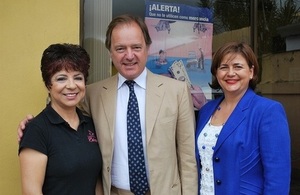 The United Kingdom's Minister of State for Latin America, Hugo Swire, made time in his busy agenda on 23 June to visit the Rahab Foundation, a non-governmental organisation that works to rescue and restore victims of human trafficking and the sex trade in Costa Rica.
Rahab Foundation was established in 1997 and relies largely on donations and proceeds from its catalogue of handmade products to fund its programmes. In 2013, the British Embassy financed the production of 3000 books, produced in English and Spanish, which would serve as a valuable guide for groups working to combat the scourge of human trafficking and trade, both domestically and internationally.
Rahab's founder and director, Mariliana Morales, welcomed the Minister warmly, and introduced him to a group of women who had recently arrived at the center, before taking him on a tour of the facilities. Minister Swire had the opportunity to speak to several of the women who had benefitted from the programme since its inception seventeen years earlier, hearing stories of how some had received an early induction into the criminal trade, were rescued from the harsh reality of their situation and were able to rebuild their lives, through the support of the Rahab Foundation.
The Minister was supporting of the work that the foundation had been carrying out for almost two decades, underlining that the issues of people trafficking and modern slavery were of great importance to the United Kingdom, which published a Bill to tackle modern slavery in December 2013.
Published 25 June 2014