Minister Henry Bellingham greatly encouraged by progress in Turks and Caicos Islands
Foreign Office Minister for the Overseas Territories speaks on his departure from Providenciales after a successful four day visit.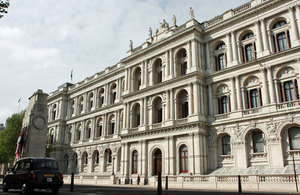 Speaking on his departure from Providenciales, the Minister said,
I have been greatly encouraged by the progress I have seen over the past four days and leave the territory optimistic about the future. I am extremely hopeful of elections taking place next year if this rate of progress against the milestones continues.

On Saturday, I flew over all the islands in an US Coastguard helicopter and was struck by the beauty and great potential of the Territory. I have seen firsthand and heard about many of the challenges that people face across the territory; the need for more private sector jobs, the repairs needed to infrastructure, further support for agriculture, and the need for a new airport terminal to match the new runway on Provo.

I have been struck by the warmth and resolve of the people I have met as we - the UK, the Governor, and the people of the Islands - work hard together to make progress across a range of issues. I believe there are many reasons to be hopeful. Together we have made significant progress towards achieving the first crucial milestone; the new Turks and Caicos Islands (TCI) Constitution, which will be laid before Parliament on 20 July. The Constitution is a key enabler which will allow more progress to be made on the remaining milestones, in time to set a date for elections in 2012.

I have been encouraged by the signs of a strengthened economy this year, with the TCI enjoying a ten per cent rise in tourist arrivals in Provo. I look forward to the benefits for the hospitality industry spreading to other sectors of the economy. On Friday I took part in a ground breaking ceremony at a US $3 million Grand Turk Welcome Centre for cruise passengers. This development will create more vital, private sector jobs for Islanders.
Bellingham visits Turks and Caicos Islands
Minister Henry Bellingham visits the Turks and Caicos Islands
During his visit to the Islands, the Minister visited Providenciales, Salt Cay, Grand Turk and North Caicos.
On Salt Cay, the Minister welcomed that the Island was featured on the UK's tentative list for potential UNESCO World Heritage Status. He visited the newly rebuilt breakwater and hurricane shelters repaired with UK financial support. He took time to tour the historic White House. He also heard from Salt Cay residents about some of the important local issues facing them, including the need for infrastructure repairs.
The Minister looks forward to returning to the Turks and Caicos Islands next year in the expectation that the Territory will be close to achieving the remaining milestones.
Published 19 July 2011