Press release
Minister goes in for "hard raft" at Lee Valley
Brandon Lewis paddles down the white water rafting course at Lee Valley White Water Centre.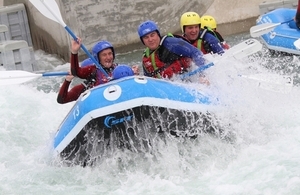 In a bold attempt to recreate the gold medal winning run of Etienne Stott and Tim Baillie, Local Government Minister Brandon Lewis today (14 August 2013) experienced the high adrenaline rush of white water rafting in the Lee Valley.
The minister saw first hand the legacy of the 2012 Olympics as he was aboard a 9-man raft that plunged through the 300 metre course which drops a total of 5.5 metres.
Lee Valley White Water Centre was the only London 2012 venue to open before the Games and the first to reopen after them. In daily use by participants at all levels, from complete beginners to elite athletes, it runs a number of successful legacy projects and an annual schools festival featuring hundreds of young people representing every London borough
Since opening, the centre has attracted nearly 200,000 visitors with 46,000 people having rafted at the centre and more than 16,000 having tried canoeing or kayaking.
Speaking after completing the course, Mr Lewis said:
It's great to see the spirit of the Olympics riding the crest of a wave here in Lee Valley. The white-water rafting is one of the most exciting legacy facilities that are being enjoyed by hundreds of thousands of people and inspiring a new generation of canoeists and kayakers.
Further information
The first phase of a £6.3 million legacy development project at Lee Valley White Water Centre has been completed with the opening of the new pavilion in July 2013. The project also involves building first class facilities for athletes with a state of the art gym and physiotherapy suite housed in an extension to the existing centre.
This extension will include meeting rooms and offices and further work will include constructing more changing rooms, increasing the number of car parking spaces and landscaping work to create viewing mounds.
Published 14 August 2013