Press release
Minister gets flood recovery progress report
Meeting of agencies and services involved in helping communities recover from recent tidal surge and flooding.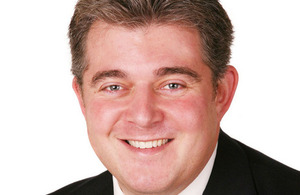 Flood Recovery Minister Brandon Lewis chaired a meeting (19 December 2013) of agencies and services involved in helping communities recover from the recent severe tidal surge and flooding across some parts of the UK.
The minister was impressed with how the Environment Agency, local authorities and voluntary groups like British Red Cross had worked successfully with the emergency services to deal with the damage caused by the storm in early December and with how they are helping households and businesses deal with the aftermath.
Mr Lewis said that those involved in the recovery effort needed to continue to maintain that work so that everything possible is being done to help those affected by the flooding during what will be a difficult holiday period for many.
The minister confirmed that he had activated the Bellwin scheme for emergency support to ensure communities could get financial assistance. He also said there would be a further progress meeting in the New Year to ensure that the good work continues and that communities were receiving the support they need.
Mr Lewis said:
I know that many households and businesses have been disrupted by the severe tidal surge and resulting floods that have affected parts of the country. That is why we have announced that we will reimburse councils under the Bellwin scheme to help them clear up streets, remove debris from roads and footpaths, shore up buildings and remove dangerous trees. In addition I am working closely with colleagues across Whitehall to see what other practical support can be offered.
The meeting was also attended by the Association of British Insurers, who said that its members were on the ground quickly to provide urgent support to those affected.
A spokesman for Association of British Insurers said:
The insurance industry is well geared up to deal with an event like this and reacted quickly by deploying experts to affected areas from day one to help homeowners and businesses get back on their feet as soon as possible. Those affected should be assured that damage from flooding is covered as standard under home and business insurance policies. An event like this highlights exactly what insurance is for and as an industry we have been working hard to manage the drying out process of flooded homes, repair buildings, restore possessions and offer alternative accommodation to customers where necessary.
The Environment Agency is out and about in communities supporting areas most affected by coastal flooding and continuing to keep people informed on progress via community groups and through local and social media. They are in areas across the country including Hull, Whitby, Boston, Keadby, Burringham and Reedness. They have been repairing and rebuilding the flood defences that were damaged or lost and Environment Agency staff are in place to respond to any flood risk over the coming weeks, including over the holiday period.
Published 23 December 2013