World news story
Minister Francis Maude the UK Cabinet Minister speaks at GITEX's Big Data Conference today
Minister for the Cabinet Office and Paymaster General the RT Hon Francis Maude arrives in the UAE.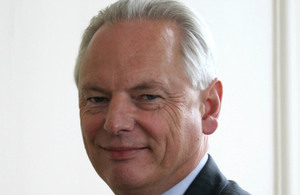 During his two day visit, Minister Maude will be the keynote Speaker at the GITEX Big Data Conference taking place today. He will meet the UK Exhibitors participating in GITEX Technology Week in Dubai.
Minister Maude will also meet Senior Emirati Officials.
Upon his arrival, Minister Francis Maude said:
"I'm delighted to be here in Dubai. GITEX is a fantastic showcase of the prosperity, creativity and potential that comes from the information age. Where there are opportunities, the UK is open for business. Where we have expertise, we want to share it. And where we need to improve our capability, we are ready to learn".
"The UK Government has classified big Data as one of the 'Eight Great Technologies' which will propel us ahead in the global race. So we launched our Open Data Institute, to incubate new start-up companies that could use this data as a raw material".
"Cyber security and economic growth are inextricably linked. The internet is global – and cybercrime is not an issue we can solve by ourselves. Eleven UK Universities have now been awarded "Academic Centre of Excellence" status in Cyber Security. We want to share this expertise with our international partners – and learn from their experience too".
"We are also seeking international consensus around how the future of the internet is shaped, recognising the importance of cyberspace in furthering economic growth and social development. We back an open and collective approach – one that prizes ingenuity, competition and the free exchange of ideas".
"Hand-in-hand with secure digital technology, transparency can deliver faster growth, better public services, less corruption and less poverty. The UK is currently chair of the Open Government Partnership, an international initiative, designed to improve governance by securing concrete commitments towards openness and greater transparency".
"At the end of the month, the 60 member states of the Open Government Partnership will meet in London. We will exchange stories of successes and failures, measure performance against previous commitments and set ambitious new objectives for greater openness".
Over 50 British IT companies are currently present at the UK Pavilion from 20th to 24th October, 2013.
Published 22 October 2013