Minister for the Middle East announces additional £17 million for Palestinian state building
Minister for the Middle East Alistair Burt has announced the UK Government funding during a meeting with Palestinian Prime Minister Salam Fayad.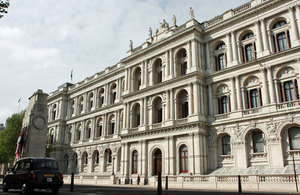 After substantive discussions with the Palestinian Prime Minister at his office in Ramallah, the Minister for the Middle East welcomed Palestinian progress against their Roadmap commitments, stating:
"I am very impressed by the progress that Prime Minister Fayyad and his team are making on the state building agenda under the guidance of President Abbas. I applaud the Prime Minister's dynamic leadership which has helped achieve this progress. It has made a difference to the lives of Palestinians, not least in the key sector of security, and has advanced the prospect of creating through negotiations an independent and viable Palestinian state living in peace with a secure Israel.
The UK remains committed to assisting the Palestinians in their preparations for statehood, through our support to the Palestinian Authority. I was therefore delighted to confirm to Prime Minister Fayyad today the UK's continued practical - as well as political - support. As a signal of UK commitment to Palestinian state-building, we are making a contribution that will enable the Palestinian Authority to provide basic services to its citizens. The £17m of funding will, for example, pay for over 4,400 children to go to school as well as 340 primary and secondary school teachers while also helping 15,000 people receive continued access to clean water through the public network."
The Minister for the Middle East and Prime Minister Fayyad discussed the current state of play with regard to the Peace Process. Speaking after the meeting, the Minister said:
"It is critical that both sides find a way to return to talks. The current impasse is of great concern and I urge all parties to take immediate steps to secure a lasting peace between Israel and Palestine - a peace that both peoples need and deserve.
We firmly believe that this should see a Palestinian state based on 1967 borders and with East Jerusalem as its capital. This is the solution which offers the best prospect of a just and sustainable peace.
I also hold firmly the view that Settlement construction is illegal, wrong and should stop. It blights the lives of Palestinians and is an obstacle to peace. This has been the consistent policy of the UK and one that I reiterate on behalf of the British Government".
The meeting also offered an opportunity for the Minister for the Middle East to raise concerns about allegations of human rights abuses by the Palestinian Security Forces. Prime Minister Fayyad made clear that the Palestinian Authority took these very seriously, described the steps the Palestinian Authority was taking and assured the Minister that the PA was committed to upholding human rights and working openly and transparently with civil society to ensure that any abuse was appropriately investigated and acted upon.
Published 18 January 2011