Minister for the Caribbean meets with the Prime Minister of St Kitts and Nevis
Minister for the Caribbean Henry Bellingham today met with the Right Honourable Doctor Denzil Douglas, the Prime Minister of St Kitts and Nevis.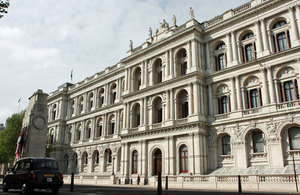 Speaking after the meeting the Foreign Office Minister said:
"I was delighted to meet Prime Minister Douglas this morning, and to welcome him formally to the London Olympics.
Our countries have long-enjoyed a close relationship based on shared history and common values and beliefs. The Prime Minister and I today reaffirmed our commitment to this relationship, and discussed how we could continue to strengthen our ties and our co-operation in a number of areas, including economic development, tourism and counter-narcotics co-operation. We also had productive discussions on a range of foreign policy and regional issues. I look forward to further useful discussions in all of these areas.
In the meantime, I would like to wish the St Kitts and Nevis Olympic team the very best of luck. I will be following their progress with interest."
Published 31 July 2012