News story
Minister for Sport drops in on school sport session
Personal trainer Matt Roberts and Helen Grant visit Lewisham school to promote 'Fitness For Life'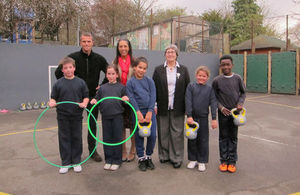 Sports Minister Helen Grant joined Personal Trainer Matt Roberts at a Lewisham school today to see Roberts' 'Fitness For Life' programme in action.
Roberts sports programme put youngsters at the St William of York Primary School through their paces and also encouraged Grant to get involved.
Roberts 'Fitness For Life' programme is being trialled at the school and aims to improve children's fitness levels and increase their will to be active and get involved in sport.
It is one of many options open to primary schools on how to spend the funding they get from Government from the £150 million per year School Sport premium.
Minister for Sport Helen Grant said:
We want to do all we can to encourage children to enjoy sport and play it for life. It was great to see the children take part in a 'Fitness For Life' session. The smiles on their faces said it all – they loved it.
Matt Roberts said:
The idea behind the whole programme I created was to make sure that every school that takes part gets their kids fitter more quickly. In 20 minutes a day of activity done vigorously, two days a week being cardio driven and two days resistant driven, including coordination and game playing the kids get motivated, fitter, more active and perform better academically back in the classroom.
Published 25 March 2014