News story
Minister for Human Rights Ramadan message 2018
Lord Tariq Ahmad sends his warmest wishes to Muslims in Britain and across the world at the start of Ramadan.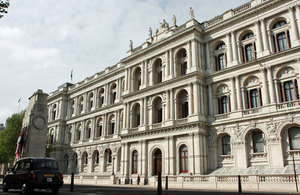 Minister for Human Rights, Lord Tariq Ahmad of Wimbledon said:
As Minister for human rights and freedom of religion and belief, I want to extend my best wishes to Muslims around the world for a peaceful and blessed Ramadan.

Tomorrow Muslims embark upon a month-long journey of fasting, prayer and reflection to remember the revealing of the Quran to the holy Prophet Muhammad, peace be upon him.

Ramadan is a time for spiritual renewal and physical reflection.

As we fast as individuals, we can take comfort in the fact that Muslims across the world find strength through devotion to fulfil one of the five pillars of our religion.

It is also an incredible time to recognise how we should all do more for the service of humanity. Indeed in previous years British Muslims have raised a staggering £100 million in charitable donations.

This Ramadan, let us celebrate the diversity of our great country and take the opportunity to come together, remember the less fortunate and commit to playing our part towards a peaceful world.

Ramadan Mubarak.
Lord Ahmad's message on the day that Ramadan started
Further information
Published 16 May 2018