Minister for Europe welcomes entry into force of the EU Act
Minister for Europe David Lidington has welcomed the entry into force of the referendum lock in the European Union Act 2011.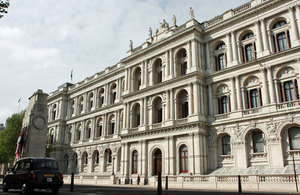 The European Union Act 2011 received Royal Assent on 19 July 2011. On that date, the provisions on the ratification of the Transitional Protocol on MEPs and the "sovereignty" clause came into effect. One month after this date, on 19 August, the provisions in Part 1 and Schedule 1 came into force, which concern the new, strengthened controls for Parliament and the British people in respect of all future EU treaty changes and the use of any future passerelle decisions, or 'ratchet clauses' in the existing treaties.
Speaking today the Minister for Europe said:
"Today, the referendum lock in the European Union Act 2011 enters into force. From now on, there is a legal requirement on the British Government to hold a referendum before any treaty changes which transfer competence or powers from the UK to the EU can be agreed. That is the law. British voters will for the first time have the final say over any further expansion of EU powers.
"I am immensely proud of what this historic law will do for our democracy. British voters have long felt disconnected from the EU and the decisions taken on the EU in their name, and this law is a vital step forward in this Government's attempts to repair that disconnection. A key part of this Government's programme is to disperse power more widely in Britain rather than hoarding authority within government. That is what this Act does."
Published 19 August 2011