Minister for Europe visits Macedonia
Minister for Europe David Lidington is in Macedonia between 22-23 June as part of a visit to the Balkan region.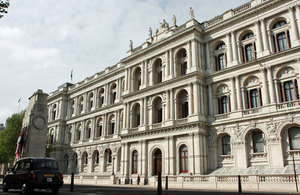 This is the second visit of a Foreign Office Minister of the new coalition government to the region. Foreign Secretary William Hague attended a high level meeting in Sarajevo, Bosnia and Herzegovina earlier in June, reflecting the British government's wish to ensure stability and prosperity across Europe through successful enlargement of the European Union.
On the 22 June Mr Lidington met with Macedonian Prime Minister Nikola Gruevski and the Deputy Prime Minister for EU Integration Vasko Naumovski. On the 23 June, he will take part in a meeting of the National Council for EU Integration, followed by meetings with the leader of the Democratic Union for Integration (DUI), Ali Ahmeti and the Deputy Prime Minister for implementation of the Ohrid Framework Agreement, Abdilakim Ademi.
The Minister for Europe then departs from Macedonia for Kosovo, where he will meet with Government ministers and the Head of the European Union Rule of Law Mission in Kosovo (EULEX).
Published 22 June 2010