Minister for Europe visits Edinburgh
Minister for Europe David Lidington is visiting Edinburgh today to give evidence to the European and External Relations Committee.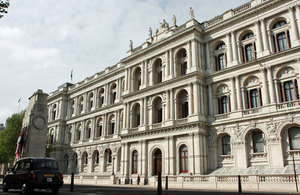 The Minister will brief MSPs on the UK's policy to the EU and developments in the Eurozone, and meet representatives of the financial sector in Scotland.
Speaking ahead of the visit, the Minister for Europe said:
"I welcome the opportunity to engage with the European and External Relations Committee. Part of my role is to ensure that the interests and views of the Devolved Administrations are taken into account in both the formulation of UK EU policy and negotiations with our EU partners where issues relating to devolved policy are concerned.
"From my experience as Minister for Europe, I think the UK Government and the Devolved Administrations work well together. I think we do a good job of advancing and protecting the interests of people and businesses in every part of the UK and I am certainly convinced that whether it's the financial services sector that matters so much to Edinburgh and Glasgow or the fisheries that are the livelihood for many communities all around the coasts of the United Kingdom, we are stronger in Europe working together."
Edinburgh and Glasgow are widely recognised as two of the UK's most important financial centres. Financial services account for around 7% of the Scottish economy, employing more than 90,000 people, with a further 70,000 jobs supported indirectly. This represents up to 1 in 10 Scottish jobs, more than shipbuilding, whisky and spirits, fishing and mining combined. 80% of the world's largest banking companies have a presence in Edinburgh, either directly or via a subsidiary. Edinburgh and Glasgow are 9th and 10th in Europe respectively in the Global Financial Centres Index.
Published 20 February 2012