Minister for Europe: There's more to Brussels than bureaucrats
Minister for Europe David Lidington talks to students at Edinburgh University about career opportunities in the EU Institutions.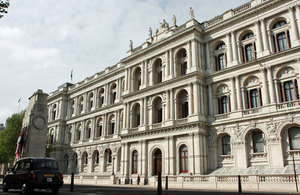 The Minister for Europe visited Edinburgh University on 29 September as part of a one day visit to the city.
He began the day by attending a round-table hosted by the Edinburgh Chamber of Commerce, and attended by leading Scottish small and medium enterprises. Issues such as the digital economy, and importing to and investing in the single market were on the agenda.
The Minister then moved on to the University, where he delivered a speech to students entitled 'There's more to Brussels than bureaucrats'. The speech was intended to encourage talented British students to consider a career working in the EU Institutions. The British Government is committed to increasing the numbers of British people working taking up careers in Institutions such as the European Commission.
*Clarification: 1.5% quoted by the Minister should refer to the number of British applications last year for the concours. 6% should refer to the representation of British Citizens working the EU Institutions.
On leaving the University the Minister visited the Scottish Parliament for a meeting with Fiona Hyslop MSP, Scottish Minister for Culture and External Relations.
Published 29 September 2010