Minister for Europe presents flagship EU Bill to Parliament
Minister for Europe David Lidington has introduced the Coalition Government's EU Bill to the House of Commons.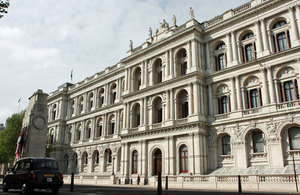 On introducing the EU Bill to Parliament on the 11 November 2010, The Minister for Europe said:
"The Coalition government is committed to being an active and activist member of the European Union. However, many people in Britain feel disconnected with how the EU has developed, and the decisions that have been taken in their name. That is why we are introducing this EU Bill, to give people more control over decisions made by the Government in the EU in their name. This Bill ensures that if there is any further handover of power from this country to Brussels, the Government will have to seek the British people's consent in a national referendum."
The EU Bill ensures that if in the future there is a new change to the EU Treaties that moves a power or an area of policy from the UK to the EU, then the Government will have to have the British people's consent in a national referendum before it can be agreed. So there will be a referendum lock on these Treaties to which only the British people will hold the key.
The Bill will give Parliament more say over important EU decisions. Treaty changes which don't transfer power or competence will in future have to be approved by primary legislation rather than now, when limited treaty changes can be approved by just a vote in both Houses. Other key decisions (sometimes known as 'passerelles' or 'ratchet clauses') which allow for modifications to the EU Treaties will need an Act of Parliament before the UK can agree to them, and a referendum where they would also transfer power or competence from the UK to the EU.
The EU Bill places on a statutory footing the common law principle that Parliament is sovereign and that EU law only takes effect in the UK by virtue of the will of our Parliament expressed through Acts of Parliament. To date, case law has upheld that principle. This Bill will put the matter beyond speculation by placing this principle on a statutory footing. The provision is declaratory, affirming this common law principle. It does not alter the existing relationship of EU law and UK law.
The Bill will also allow UK approval of a Transitional Protocol, meaning the 18 additional MEPs provided for in the current EU Treaty can take up their seats before the next European Parliament elections in 2014. It also makes arrangements for the election of the extra UK MEP.
Published 11 November 2010