Minister for Europe discusses UK leadership in the EU and priorities for European cooperation at CityUK Debate
David Lidington MP attends the CityUK Spring Debate and discusses current economic issues and the future for financial services .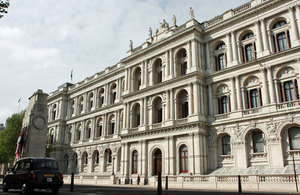 On 12 June 2012, the Rt Hon David Lidington MP attended the CityUK Spring Debate and discussed current economic issues and the future for financial services with senior representatives from across the business and financial sectors. The discussion, which was attended by over 200 people, centred on financial services and was entitled '2020 and beyond: financial services meeting future challenges'.
The seminar at Nomura's London HQ, brought together parliamentarians, consumer bodies and senior representatives from the financial, professional and industry sectors. The seminar considered how the financial and professional services sector can work with governments and regulators to tackle the big challenges of the future.
The seminar examined some of the big questions facing financial services and three main themes were; business funding - how Government and industry can work together to support economic development and funding for business; the future of trade - the alternative approaches to trade liberalisation and how regulators can avoid the fragmentation of global capital markets; financing sustainable infrastructure and energy solving challenges related to the need for investment in infrastructure and renewable energy.
Minister for Europe David Lidington spoke about current economic challenges and also highlighted recent UK engagement with other Member States: ''The City of London is a financial services centre for the whole continent and a well run finance service industry is vital to creating jobs and growth and I am pleased the CityUK, along with the City of London Corporation, are doing ever more with other Member States - alongside the FCO and our Embassies around Europe… financial services are essential to the real economy, and a successful City is an asset to the whole EU..we want Eurozone stability so Europe can focus on the strategic challenge of shifts in global economic power..''
Chris Cummings, Chief Executive of TheCityUK said: 'It is essential we focus on growing our trade links beyond Europe. We must enhance our relationships with emerging countries and put the UK at heart of global trade. For the UK to see strong future growth we must rediscover our appetite to be a great trading nation."
Other speakers at the event included, Mark Hoban, Financial Secretary to the Treasury, Karen Pierce, UK Ambassador to the WTO, Georg Boomgaarden, German Ambassador to the United Kingdom.
Further information:
Published 12 June 2012