Minister for Europe discusses EU growth and jobs in Dublin
The Rt Hon David Lidington MP attends Economic Ideas Forum in Dublin Castle and discusses growth and job creation with Business Leaders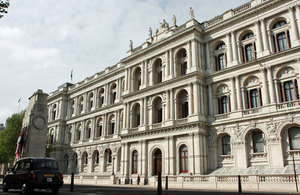 The Minister for Europe David Lidington visited Dublin on 19-20 April to participate in the annual Economic Ideas Forum.
The conference brought together parliamentarians, ministers and opinion formers from different EU countries to discuss the future of the European Union in the context of the economic crisis. The conference examined some of the big questions facing EU member states and was hosted jointly by the Taoiseach, Enda Kenny and the Irish Minister for Europe, Lucinda Creighton.
Creighton said at the event "This conference is about bringing people together to find solutions to the challenges we face in Europe. I consider the European Union to be like a family. But like any family we have to face up to difficult challenges and be prepared to be honest with and sometimes critical of each other. This conference will allow us to work together to conceive and progress the ideas that will allow us to realise a better future for the European Union and for all of its citizens."
This visit follows the Joint Statement issued by the Prime Minister and the Taoiseach on 12 March, which communicated the desire for cooperative working over the next ten-year period, especially in the areas of energy security, boosting competitiveness and productivity, accelerating recovery, growth and job creation.
To further these objectives, Ambassador Dominick Chilcott hosted a working lunch with Mr Lidington and a group of business leaders, to discuss their vital contribution to the economic growth of Ireland and the UK, and to better understand the opportunities and challenges these Irish companies are facing in Europe and the UK.
David Lidington also briefly met with Richard Bruton TD, Minister for Enterprise, Jobs and Innovation and members of staff at the British Embassy.
Talking about the visit, our Ambassador, Dominick Chilcott said: "Mr Lidington visited Dublin at a very interesting time with a lot of political energy focussed on the referendum campaign. As well as comparing notes on current European business, he was able to look ahead to working with the Irish government during its presidency of the EU next year. The British and Irish Europe ministers have an excellent relationship, which is typical of the very close cooperation between our two governments"
Visit our Flickr Gallery for some photos of the visit
Minister for Europe David Lidington visits Dublin
Published 20 April 2012