World news story
Minister for Europe David Lidington visits Poland
The UK's Minister for Europe David Lidington has visited Warsaw on 19-20 May to continue good bilateral co-operation on cutting red tape, and to discuss energy security and Ukraine.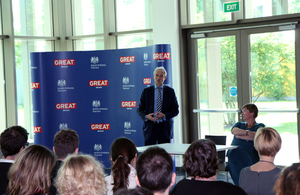 Minister Lidington discussed UK-Poland collaboration on key issues, not least Ukraine, with his Polish opposite number Piotr Serafin. Other aspects, such as the Eastern Policy, Syria, as well as energy and security policies were raised at meetings with Katarzyna Pełczyńska-Nałęcz and Jaromir Sokołowski, Undersecretaries-of-State at the Foreign Ministry and the President's Chancellery respectively.
With Poland being one of the UK's key trading partners, Minister Lidington also met with representatives of British and Polish businesses at a meeting held at the British Polish Business Centre. The aim of the Centre is to promote the opportunities, find potential business partners and attract more British firms to the Polish market.
This last meeting also focussed on better regulation, with Ministers Lidington and Mariusz Haładyj (Poland's Deputy Economy Minister) highlighting the need to further cut red-tape, exploring common points of view on the subject and getting to know the experience of business representatives in terms of regulation. The event highlighted the similarities between Polish plans for cutting unnecessary regulations, and those of the Prime Minister's Business Task Force, as well as strong support in Poland and the UK for the European Commission's review of EU regulations, REFIT.
Published 20 May 2014