Press release
Minister for Europe condemns "serious incident" in Gibraltar
David Lidington has protested to the Spanish Minister for the European Union after allegations of shots fired in British territorial waters.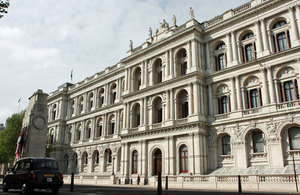 Minister for Europe David Lidington has today protested to Spanish Minister, Íñigo Mendez de Vigo, following an incident in British Gibraltar territorial waters.
David Lidington, Minister for Europe, said:
I spoke today with Spanish Minister for the European Union, Íñigo Mendez de Vigo, in order to protest in the strongest terms following an incident on 23 June in British Gibraltar Territorial Waters (BGTW). During an illegal incursion by a Guardia Civil vessel, a Guardia Civil officer fired a weapon.

I made clear that the discharge of a weapon in or near Gibraltar is completely unacceptable. I urged Señor Mendez de Vigo to investigate urgently and to take action to ensure that this will not happen again.

I can also confirm that I have instructed the Chargé D'Affaires in Madrid to reiterate this protest in person to the Spanish Ministry of Foreign Affairs and to request a full explanation.
Further information
Follow Foreign Office Minister David Lidington on twitter @DLidington
Follow the Foreign Office on twitter @foreignoffice
Follow the Foreign Office on facebook and Google+
Subscribe to the announcements feed or email alerts to get our latest news and announcements
Published 25 June 2013