Minister for Africa meets President of Burkina Faso
Minister for Africa Henry Bellingham discussed the political crisis in Cote d'Ivoire with the President of Burkina Faso in London today.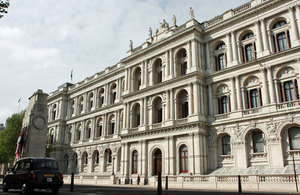 His Excellency President Compaore of Burkina Faso is visiting London and Paris on behalf of the Economic Community of West African States (ECOWAS).
The Minister for Africa reiterated the UK's support for the robust position that ECOWAS has taken following Cote d'Ivoire's presidential elections in November:
"I was pleased to meet the ECOWAS delegation today, headed by President Compaore, to discuss the political impasse in Cote d'Ivoire. I commended the President for ECOWAS' efforts, and reiterated the Government's support for the robust stance taken by ECOWAS and the African Union, in upholding democracy in the region and throughout the continent."
The President will also meet Deputy Prime Minister Nick Clegg and Secretary of State for International Development Andrew Mitchell this evening.
Published 17 January 2011