World news story
Minister for Africa and Middle East and PM's Trade Envoy to Angola visit Luanda
The visits demonstrate UK's commitment to strong political, economic and commercial relations with Angola.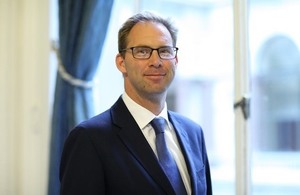 Tobias Ellwood, the UK Minister for Africa and the Middle East, and Baroness Northover, the UK Prime Minister's Trade Envoy visited Angola this week for calls with senior ministers covering the wide range of areas in which the UK and Angola work together.
In his first visit to Angola, minister Ellwood met senior Angolan ministers. These important discussions built on the progress made during the visit of his predecessor, James Duddridge, in 2016, when a Memorandum of Understanding was signed between the UK and Angola covering the political, economic and commercial bilateral relationship. As well as discussing bilateral relations, discussions focused on the region and the international agenda.
Ahead of his visit, Mr Ellwood said:
I am delighted to be visiting Angola for the first time and look forward to discussing areas of mutual interest to our two countries. Not only is Angola a valued UK partner in terms of trade, but we have the same objectives in terms of regional and international peace and security. There is much we can do together.
This is Baroness Northover's fourth visit since her appointment as the Prime Minister's Trade Envoy to Angola last year. She visited Huambo, where the focus was on furthering bilateral business co-operation in the agricultural sector. In Luanda, Baroness Northover plans to meet with various ministers including the Minister for Energy and Water, the Minister of Finance and the Minister of Geology and Mining.
HE John Dennis, British Ambassador to Angola said:
These two high level visits demonstrate the importance we place on our relations with Angola. The visit of our Minister for Africa and the Prime Minister's Trade Envoy signifies the value and strength of our engagement with Angola across the political, economic and commercial agenda, for the benefit of both countries. Our Prime Minister recently set out the UK's vision for itself as a truly Global Britain, more outward looking than ever before and committed to forging trade links across the world. These visits are example of Global Britain in action.
Published 15 February 2017