Press release
Minister Duncan statement on meeting with Venezuelan Foreign Minister Jorge Arreaza
The Minister expressed his concern at the deteriorating situation in Venezuela during a meeting in London today.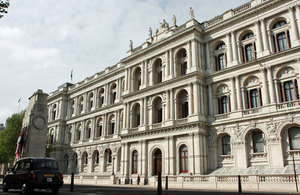 FCO Minister of State for Europe and the Americas the Rt Hon Sir Alan Duncan said:
I met the Venezuelan Foreign Minister, Jorge Arreaza, in London today. Mr Arreaza set out his Government's view of developments in Venezuela.

I expressed the UK's profound concern at the continuing deterioration in the political, economic and humanitarian situation in Venezuela. I reiterated the UK's firm view that the establishment of the unconstitutional Constituent Assembly was an unnecessary and divisive act that was not supported by the majority of the Venezuelan people, and that a strong and independent parliament is key to a successful democracy.

I noted that talks between the Venezuelan Government and Opposition are currently stalled, and called on the government to ensure the appropriate context for restarting talks, including respect for democratic institutions and values. There can be no progress in resolving the crisis in Venezuela until there are serious, constructive negotiations.

The UK also discussed Venezuela with EU partners today at the Political and Security Committee meeting in Brussels. Together, we are considering a range of possible actions. As I said to Mr Arreaza, we are watching the management of the 15 October Venezuelan State Governors' elections closely, as they are a key test of the Venezuelan Government's respect for democracy.
Published 10 October 2017