Minister defends need for private space in diplomacy in the Internet age
Foreign Office Minister Alistair Burt argued the case for the FCO's digital engagement activities during a Westminster Hall debate, whilst emphasising the need for certain diplomatic communications to remain private.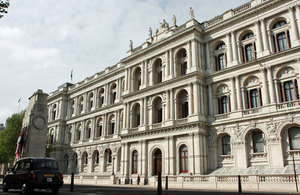 The topic for the debate, entitled Effects on Diplomacy of Internet Technologies was proposed by Joseph Johnson MP for Orpington, with the aim of drawing some preliminary lessons from the WikiLeaks incident. A full transcript of the debate can be read in our speeches section.
Alistair Burt argued that the use of digital tools enables the Foreign Office to deliver foreign policy objectives where they cannot be achieved through traditional methods. However he cautioned against removing the space for private communications altogether saying:
"In diplomacy, the ability to negotiate in private confers freedom to broker agreement, and it is essential that that space remains…The importance of free, frank and strictly confidential communication between Governments, and between Ministers and their diplomats, has been proved many times in history, from the formation of NATO to the western response to the Soviet Union, recent events such as climate change, peace and security debates at the UN, and the future of NATO
"The inability to hold conversations in private, in the confidence that they will remain private, will mean diplomats are more guarded about what they say to each other. That point has been made. They will inevitably commit fewer of these exchanges to paper, and our historical record will be severely damaged as a result. Transparency is therefore not well served.
"The job of diplomacy is to influence, explain and facilitate the delivery of our foreign policy goals. Increasingly that is not done state to state…. The best of the web is where one engages and listens, not just where one broadcasts. Through blogging and social media, we can listen to how people view our work and monitor how the world views us, giving us the ability to adjust our behaviour accordingly. The internet age will continue to open up new possibilities and we will change the way we work as the world changes around us."
Alistair Burt concluded by saying:
"It is fashionable but lazy to assume that democratic governments use secrecy only to advance self interest, not the common good. There are thousands whose work demonstrates that this is just not true, and it is time democratic governments stood up and said so."
Published 22 December 2010