News story
Minister commits Government to easing burdens on universities
He will say an agreement reached with Her Majesty's Treasury will enable universities to become more efficient through closer collaboration:…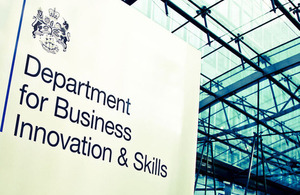 He will say an agreement reached with Her Majesty's Treasury will enable universities to become more efficient through closer collaboration:
"We are asking universities to become more efficient - and we are helping them to do so. Just this week, I have written to Eric Thomas at Universities UK to give him the good news about the Treasury's agreement to exempt shared services from VAT. The Treasury has confirmed that, under the principle of direct effect, universities can immediately benefit from this decision, and I know it will be welcomed by institutions."
The Minister will also say that the Government has listened to calls from universities about the cost of data collection:
"I have discussed the issue of data collection with people from across the HE sector, and there is a widespread desire to go back to first principles. We need to establish precisely what information we already collect, what we actually need and why - and to reconcile the two, so that collection is useful and proportionate for all institutions concerned.
"I'm pleased that the Information Landscape project - launched just last month, and with input from all parts of the sector - is seeking answers to these essential questions. The project website goes live tomorrow. Participants will be identifying any 'quick wins' for easing the burden on universities, as well as publishing a road map for implementing a simpler model overall."
David Willetts will also announce a review of philanthropy in the higher education sector:
"As the matched funding scheme comes to a close, I can announce today that HEFCE is leading a review into voluntary giving to universities and colleges. This review will examine the evolution of HE-related philanthropy over recent years, and suggest ways for universities to make successful fundraising a mainstay of their institutional culture."
On Tracking International Graduate Outcomes research published today David Willetts will say:
"Today, I'm releasing a report which highlights not just the importance of international students to the UK but the benefits that those students enjoy. It shows that, three years after graduating, more than four fifths of international students feel that their UK degree was worth the financial investment. Their skills are in high demand, and they achieve markedly higher average salaries in their home countries than compatriots who were educated domestically. At the same time, the great majority of our international graduates intend to retain links to their UK universities and to professional organisations within the UK."
Notes to editors
BIS's online newsroom contains the latest press notices, speeches, as well as video and images for download. It also features an up to date list of BIS press office contacts. See http://www.bis.gov.uk/newsroom for more information.
Notes to Editors
Contact Information
Name BIS Press Office Job Title
Division COI Phone
Fax
Mobile
Email NDS.BIS@coi.gsi.gov.uk
Name Michael Gibbs Job Title
Division Department for Business, Innovation and Skills Phone 020 7215 1635 Fax
Mobile
Published 19 January 2012