Minister celebrates Ramadan with British Muslims and Islamic Relief
Foreign Office Minister Alistair Burt and Development Secretary Andrew Mitchell attended an Iftar event organised by Islamic Relief on 26 July.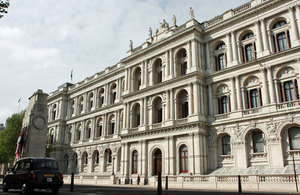 Speaking at the event, the Foreign Office Minister said:
"I am delighted to celebrate Ramadan by sharing this Iftar with so many members of the Muslim community from across Britain and Islamic Relief who have done so much to support people in need across the world. At this time of reflection and solidarity, we should remember those less fortunate that us who today are face an uncertain and difficult future. Nowhere it this more poignant than in Syria where people continue to seek greater freedom in the face of brutal repression. I hope that the UK's development assistance will stand as a sign of our commitment to charity and compassion at a time when Muslim families and friends celebrate these values. Ramadan Mubarak".
The Development Secretary said:
"We are delighted that the Government will be matching pound for pound public donations to the Islamic Relief Ramadan appeal, up to a total of £5 million. We share with them their spirit of compassion and giving during Ramadan.
"This will help hundreds of thousands of the world's poorest, most vulnerable people - parents in the Sahel struggling to feed their children, and farmers in areas of Bangladesh and Pakistan whose crops are threatened by flooding or drought caused by climate change. It will help both to meet people's immediate needs and to give them the resources they need to lift themselves out of poverty."
Published 27 July 2012