World news story
Minister Burt: "Palestinian State without Gaza is inconceivable
"British support for Gaza is strong and will continue"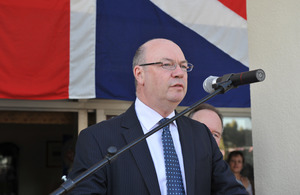 UK Minister for the Middle East, Alistair Burt, travelled to the Gaza Strip today to complete his trip to the Occupied Palestinian Territories.
Minister Burt first visited an agricultural area north of Beit Lahia to see for himself the impact of movement and access restrictions on the livelihoods of Gazan farmers living in the buffer zone adjacent to the border with Israel. He was briefed by the UK-supported Norwegian Refugee Council (NRC) about the legal services it provides to these communities to help them protect their rights to housing, land and property.
Minister Burt also met Palestinian businessmen, with whom he discussed the political and economic climate in Gaza, including the impact of the ongoing divide between the West Bank and Gaza and the severe impact of movement and access restrictions on the Gazan economy.
Before departing Gaza, Minister Burt hosted an event for young Gazan graduates of the UK Government's Chevening Scholarship scheme. The event, which marked 30 years of Chevening scholarships, has enabled students from the Gaza Strip to complete their higher education in British universities. The event brought together a 50-strong Gazan Chevening alumni group, who shared with the Minister their life-changing experiences while studying in the UK.
Addressing the young Gazans, Minister Burt said:
My visit to Gaza today comes at a crucial time for the region: a moment where there is opportunity but also grave danger if the opportunity is not seized.
Making progress will require the creative and resilient spirit of all Palestinians including those in Gaza, as well as the talent and ability of young minds, such as the Chevening Scholars that I see in this audience. You are testament to the lasting bonds that bind the British and Palestinian people.
British support for Gaza is strong and will continue. In Gaza we are supporting UNRWA to build 12 new schools by 2015, allowing an additional 24,000 pupils to access education. DFID funding to Gaza totals nearly $50 million a year and is set to increase. As part of our support we also want to see movement and access restrictions on Gaza lifted, so that Gaza and Gazans can fulfil their potential and the suffering of the people of Gaza can be brought to an end.
Yesterday I discussed with President Abbas the urgent progress we want to see towards a Palestinian State. Today in Gaza I reaffirm that Gaza is a fundamental part of that future Palestinian state. A State of Palestine which doesn't include Gaza and Gazans is simply inconceivable.
Published 13 June 2013