Minister answers pupils' questions on safer countries
School presented with International Award by Minister for International Development, Alan Duncan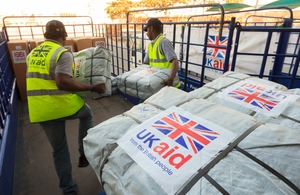 Pupils of Cardinal Heenan Catholic Sports College were today presented with the prestigious British Council International School Award by Minister for International Development, Alan Duncan.
The British Council's International School Award is the highest of three levels of recognition given to teachers and schools performing highly in delivering education on international issues.
Known for its expertise in sports training with Liverpool Football Club Captain Steven Gerrard a past pupil, Cardinal Heenan has fast been carving out a reputation as UK trail blazer in getting a global dimension into learning.
With links to schools around the world including Sierra Leone, pupils made the most of the opportunity to grill the Government Minister on how British aid is helping to create safer countries.
In 2002, British troops played a vital role in bringing peace to Sierra Leone after a decade long bloody civil war which claimed the lives of 50,000 people, and left the country financially crippled.
Thanks to support from British aid, the country will this year hold democratic elections for the second time since the war ended. 
And British aid is now reaching the country's poorest with help to get over half a million more children into school and the landmark breakthrough of free healthcare for pregnant women.
Alan Duncan said:
"These young people are tremendously inspiring. They have a real grasp of the world around them. They understand that investing British aid on making fragile and conflict-affected countries safer is a smart move, delivering real results for the very poorest and protecting Britain from external threats. Without security, there is no development."
In September, the Department for International Development (DFID) announced that more British aid would be focused on fragile and conflict countries to boost the fight against extreme poverty and strengthen DFID's contribution to national security.
Published 26 January 2012