News story
Minister announces appointment of two trustees to the NESTA board
They have been appointed for a term of four years from 4th June 2010. Minister of State for Universities and Science David Willetts said: …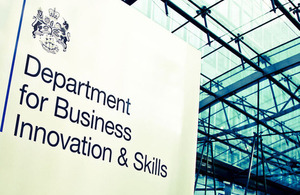 They have been appointed for a term of four years from 4th June 2010.
Minister of State for Universities and Science David Willetts said:
"David Henshaw and John Sheldrick will bring a vast wealth of experience to NESTA. David's knowledge of innovation in the public services sector, and John's financial and business expertise, will make a vital contribution to NESTA's work in the field of innovation."
NESTA Chairman, Sir John Chisholm, said:
"We are delighted that Sir David Henshaw and John Sheldrick are joining our Board of Trustees. Sir David will bring us his distinguished record of driving change and performance in the public sector. John brings his long experience as CFO of a FTSE 100 company plus his commitment to innovation-led manufacturing".
---
Notes to Editors
1. Sir David Henshaw has been appointed as a Trustee and Chair of NESTA's Public Services Lab Committee. He is currently Chairman of NHS Northwest and Chairman of the First Minister's Advisory Group on Public Service Delivery for the Welsh Assembly. He was previously Chief Executive of Liverpool City Council and Chief Executive of Knowsley Metropolitan Borough Council.
**2. John Sheldrick **has been appointed as a Trustee and as a member of the Finance and Audit Committee. He retired from Johnson Matthey plc in September 2009 where he was Group Finance Director for 19 years. Prior to this he held senior financial roles for major organisations such as the BOC Group plc and Spillers Ltd. He is currently a non-executive director of GKN plc and also on the boards of Catalyst Housing Group and The Abbeyfield Society.
Sir David Henshaw is entitled to receive an honorarium of £9,000 pa (which includes remuneration of £2,000 for chairing duties). John Sheldrick is entitled to receive an honorarium of £7,000pa.

The appointments have been made in accordance with the Code of Practice issued by the Office of the Commissioner for Public Appointments. Appointments are made on merit and political activity plays no part in the selection process. However, there is a requirement for appointees' political activity to be made public and both appointees have declared no political activity in the last five years.

NESTA is the National Endowment for Science, Technology and the Arts - an independent body with a mission to make the UK more innovative. NESTA invests in early-stage companies, informs and shapes policy, and delivers practical programmes that inspire others to solve the big challenges of the future. More information can be found at: www.nesta.org.uk.

For further information, please contact Michael Gibbs at the BIS Press Office on 020 7215 1635 or Chani Hirsch at NESTA on 020 7438 2601.

BIS' online newsroom contains the latest press notices, speeches, as well as video and images for download. It also features an up to date list of BIS press office contacts. See [http://www.bis.gov.uk/newsroom](http://www.bis.gov.uk/newsroom) for more information.
Notes to Editors
Contact Information
Name BIS Press Office Job Title
Division COI Phone
Fax
Mobile
Email NDS.BIS@coi.gsi.gov.uk
Name Michael Gibbs Job Title
Division Department for Business, Innovation and Skills Phone 020 7215 1635 Fax
Mobile
Published 3 September 2010