Minister announces '10 Prisons Project' to develop new model of excellence
Prisons Minister Rory Stewart has today (17 August 2018) announced a new project to tackle the most persistent and urgent problems facing 10 of the most challenging prisons.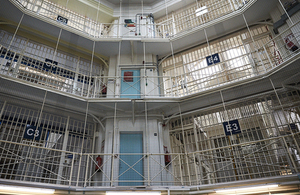 A new approach to improve standards and security will be piloted in 10 of the most challenging prisons
The focus will be on reducing violence through radically increasing security against drugs and challenging all abusive behaviour
There will be additional investment in leadership and dedicated resources to tackle drugs, security and building issues
Good practice will be spread across the prison estate – ultimately reducing reoffending and future of victims of crime
The project will focus on challenging violent and disruptive behaviour and includes £10 million funding to fight drugs, improve security and, crucially, boost leadership capabilities through new training. The 10 will serve as models of excellence for the rest of the estate to follow.
Specifically, these 10 prisons have struggled with acute problems, including high drug use, violence and building issues. While the governors and staff at the prisons - Hull, Humber, Leeds, Lindholme, Moorland, Wealstun, Nottingham, Ranby, Isis and Wormwood Scrubs - have dealt with these challenges, this project will provide them with the resources and support to make decisive, lasting progress. It will be up and running in all 10 prisons by the end of the year – and tangible results will be expected within the following 12 months.
Under the programme, governors at each prison will be provided with new scanners capable of detecting packages inside bodies, and sniffer dogs trained to detect new psychoactive substances. Further investment will go into repairing basic infrastructure such as broken windows.
Management will train and support staff to set the highest expectations for prisoners and challenge disruptive and violent behaviour fairly, consistently and firmly to restore order and control. This investment is in addition to the £30 million package announced by the Justice Secretary, David Gauke, in July. That included £16 million to tackle acute maintenance needs in the estate, plus £7 million for safety and security measures and the same amount again for securely monitored in-cell telephones.
The new £10 million package of investment will:
Curb the flow of drugs and phones into prisons - £6 million has been designated to tackle drug supply by enhancing physical security at the jails; with investment in drug-detection dogs, body scanners, and improved perimeter defences.
Improve safety and decency - there will be a focus on standardising residential areas inside the prisons. £3 million will support this through targeted improvements to the fabric of each establishment, ensuring that living conditions meet new standards of decency and cleanliness that are to be drawn up as part of the plan.
Develop new standards of leadership - £1 million will fund bespoke training programmes and interventions to give governors the support they need to drive improvement at their prisons. They will have the opportunity to call on former officers and governors who will share best practice from their years of experience. A staff college model, inspired by the military, will be developed for Governors. More junior uniformed staff will be given the support and confidence to challenge disruptive behaviour.
Geographical clusters of prisons in Yorkshire, the north Midlands and London have been selected for the project, to ensure a targeted approach to tackling the supply of drugs from organised crime in those areas.
These measures are part of a much wider strategy to tackle the most pressing threats to security in prisons. At the heart of this is a £100 million investment in the frontline which has seen more than 3,500 additional prison officers recruited so far, with the majority already on the landings.
Prisons Minister Rory Stewart said:
With more than 20,000 prison officers, 84,000 prisoners, and over 100 prisons, it is vital we set challenging standards so prisons are places where offenders can turn their lives around.

With the right leadership on the ground, and support from the centre, these 10 prisons will pave the way for a new approach, a new ethos and a new direction. We need to make these prisons calmer, more orderly places and in the end that comes down to challenging and managing prisoners consistently, firmly and fairly. And we will put our support and training behind our prison officers to make that happen.

"No-one can hope to change an entire system overnight. But through these vital improvements to 10 prisons, we can set a course for the rest of the estate to follow – leading us to a system that truly rehabilitates, cuts reoffending and ultimately keeps the public safer.
Notes to editors
The £30 million package announced in July included an overall £7 million investment in safety and security. This will fund a range of new security measures, including airport-security style scanners, improved searching techniques and phone-blocking technology, along with a new digital tool will enable prisons to build a more detailed picture of the kind of risk an offender is likely to present – including the likelihood of involvement in organised crime.

It included £16 million to improve the fabric of prisons, targeting establishments with the most pressing maintenance issues and ensuring that they are brought back up to acceptable standards. This is on top of the existing maintenance budget.

Also £7 million on in-cell telephones for more prisons. Currently most prisoners queue for public phones on the landings, which can be the trigger for violence or fuel demand for illicit mobile phones. Some of our modern prisons have in-cell phones with strict security measures, meaning calls to family can take place in private. Prisoners will continue to pay to make these calls.