News story
Millions of bank customers to benefit from improved current account measures
The response builds on a number of Coalition commitments to increase transparency and help consumers make better financial decisions when borrowing…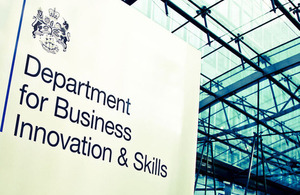 The response builds on a number of Coalition commitments to increase transparency and help consumers make better financial decisions when borrowing money and deals specifically with:
unarranged overdraft charges;

introductory discounts when taking out a store card;

interest rate caps on credit and store cards;

and other consumer credit issues, including high cost credit.
Responding to consumer concerns about the lack of control and transparency over bank charges, the Government has driven forward a voluntary agreement which will apply to all full-facility current accounts offered by the major banks.
Under the new agreement, over 85 per cent of personal current account customers will benefit from measures to make charges for unarranged overdrafts clearer, fairer and more manageable. This includes annual statements so that customers can see how much their account costs over the year.
Consumers will have the option to receive alerts when their balance is low so that they can take action to avoid a charge; and they will no longer be charged for going over their limit by a small amount.
Balance alerts will be available from March 2012, with full implementation of the other measures by March 2013 at the latest.
Consumer Minister Edward Davey said:
"We received a fantastic response to the review which has been central to our vision to give consumers the tools they need to make well-informed decisions when managing their finances.
"The package of measures we have set out will encourage consumers to make better credit decisions and strengthen protection where necessary - particularly for the most vulnerable.
"We are committed to responsible lending and will continue working with the industry to improve consumer protections, particularly in the high cost credit market, where we are speaking to the industry to ensure that additional consumer protections are included in codes of practice."
Financial Secretary to the Treasury Mark Hoban said:
"The public told us they felt overdraft charges were unclear, and that it was unfair to be penalised for only going over your limit by a few pounds. They also told us that consumers can be tempted into taking out a store card by being offered a discount at the till.
"We've listened to these concerns and have worked with industry to develop a strong package of measures in response. The changes made as part of this review will empower consumers to make the right decisions for them and encourage responsible lending practices."
And from September 2013 a new guaranteed switching service within seven days will give customers the confidence to switch accounts quickly, safely and without hassle. This will mean that consumers can make sure that they are getting a good deal from their bank.
On store cards, respondents to the Review were most concerned about customers being tempted into expensive credit by retailers offering discounts on their purchases at the time they take out a store card.
Following negotiations with the Government, industry has agreed to end this practice as well as introducing other measures to improve the way store cards are offered, including a good practice training scheme and a ban on direct commission for sales staff.
The Government will not be introducing a cap on interest rates on credit and store cards. Following the review, the evidence showed that a cap would not be in the best interest of consumers as pricing some consumers out of the market could force individuals to seek unregulated or high cost credit.
Another outcome from the review was the real concerns on the high cost credit market, in particular its effect on vulnerable people. The Government is today announcing that Bristol University's Personal Finance Research Centre (PFRC) has been appointed to carry out research into the impact of introducing a variable cap on the total cost of high cost credit.
The Government has also started negotiations with industry to introduce improved consumer protections in codes of practice for payday lenders and other instant credit providers. In addition, the Government is working to improve access to credit unions which can provide a real alternative to high cost credit.
The voluntary package of measures announced in the Government response to the review, including on bank charges and store cards, will deliver real benefits for consumers far more quickly than waiting for legislation. This is in line with the Coalition principles of freedom, fairness and responsibility.
Notes to editors:
You can read the full response at http://www.bis.gov.uk/Consultations/consumer-credit-call-for-evidence?cat=closedwithresponse

The major banks that have signed up to the agreement are Barclays, HSBC (including First Direct), Lloyds Banking Group (including LloydsTSB, Halifax and Bank of Scotland), RBS (including Natwest) and Santander. This represents over 57million current accounts that will benefit from the changes.

Edward Davey announced there would be a review of consumer credit and personal insolvency on 13 July 2010. You can see the press notice on this here: http://nds.coi.gov.uk/content/Detail.aspx?ReleaseID=414423&NewsAreaID=2
The Call for evidence for the review was launched in October 2010. You can see the press notice here: http://nds.coi.gov.uk/content/detail.aspx?NewsAreaId=2&ReleaseID=415992&SubjectId=15&DepartmentMode=true
The Government responded to the personal insolvency aspects of the review on 19 July. Please see http://nds.coi.gov.uk/content/Detail.aspx?ReleaseID=420481&NewsAreaID=2
For further information please contact Ed Smith on 020 7215 5945 or ed.smith@bis.gsi.gov.uk or the Treasury Press Office on 0207 270 5188

BIS's online newsroom contains the latest press notices, speeches, as well as video and images for download. It also features an up to date list of BIS press office contacts. See http://www.bis.gov.uk/newsroom for more information.
Further Quotes
Angela Knight, chief executive of the British Bankers' Association said:
"Banks are at the heart of initiatives to help customers manage their finances and we understand the importance of being able to keep track of your money.
"Banks set out the charges customers pay if they don't arrange an overdraft before taking the money or where they go over an existing limit. Nonetheless, we know it can be hard to keep on top of what is going in and out when there are a lot of transactions going through the account.
"We support the further commitment from the major banks to ensure all their full-facility accounts will benefit from the option to receive alerts and to have safety buffers. This will help prevent customers incurring unintentional costs. Many of our members already offer services to warn customers if they are close to zero or likely to go over an agreed overdraft limit. However, the safest course of action is still for people to contact their bank when an overdraft higher limit is anticipated."
Stephen Sklaroff, Director General, Finance & Leasing Association said:
"These new measures for store cards will ensure that consumers can continue to enjoy the many benefits that retailers offer on the High Street.
"We have worked with the Government, store cards providers, retailers and consumer groups to agree a package of measures that allows customers to make informed decisions about whether a store card is right for them."
Stephen Robertson, Director General of the British Retail Consortium said:
"We know consumers value store cards as a route to convenient, short-term credit. The proposed package is a common sense compromise which will give people enhanced consumer protection while ensuring that they can continue to access the benefits those cards offer."
Notes to Editors
Contact Information
Name BIS Press Office Job Title
Division COI Phone
Fax
Mobile
Email NDS.BIS@coi.gsi.gov.uk
Name Ed Smith Job Title
Division Department for Business, Innovation and Skills Phone 020 7215 5945 Fax
Mobile
Email ed.smith@bis.gsi.gov.uk
Published 21 November 2011