Millies' nomination deadline looms
For the past three years The Sun Military Awards have honoured members of the UK's Armed Forces for their heroism and bravery, and this year is no different.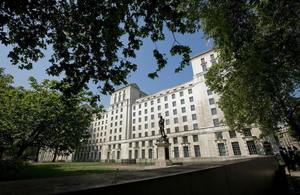 The deadline for nominations for the 2011 Millies is fast approaching and Service personnel and members of the public are being encouraged to single out those who are worthy of one of the sought after trophies.
The last day nominations will be accepted is Monday 12 September - further information can be found on The Sun's website.
The categories for nominations are:
Overcoming adversity
To recognise a Serviceman or woman who has suffered severe injury or illness, and has overcome their difficulties with fortitude.
Best Sailor or Marine
For the individual who has made the most outstanding contribution to the Royal Navy or Royal Marines over the past year.
 Outstanding Soldier
To recognise the individual who has made the most outstanding contribution to the Army during the past year.
Outstanding Airman
For the individual who has made the most outstanding contribution to the Royal Air Force over the past year.
Best reservist
For a reservist of any rank or Service who has made the most outstanding contribution to any Armed Forces endeavour.
Support to the Armed Forces
For a civilian - a civil servant, contractor, charity worker or member of the public - who has given exceptional help to the Forces.
Life Saver Award
For an individual or a group - whether a medical professional or not - who has performed an extraordinary lifesaving act.
True grit
Individual or group who have performed an act of true grit - through courage, determination or self-sacrifice - while in the UK or abroad.
Best Unit
The winner can be a unit of any size that has excelled consistently, for example with achievements on an operational deployment.
There is also a Judges' Special Award, which will be awarded to an individual or group not recognised elsewhere, for outstanding service.
Launching the awards this year, His Royal Highness The Prince of Wales said:
Now in its fourth year, The Sun's Millies recognise those truly remarkable cases of determination, grit and good humour that abound in our Armed Forces, and those organisations and individuals who help them in everything they do.

I am once again immensely proud to support these awards, as they go some way in paying the enormous debt of gratitude we owe those who serve this country so bravely and with such remarkable dedication and professionalism.
Every award is open to all serving members of the UK Armed Forces, unless specifically stated.
The timeframe for deeds to be considered for this year's Millies are the 12 months from 1 September 2010 to 31 August 2011.
Published 6 September 2011