Military reservists proudly wear their uniforms to work
Up and down the country, people from every walk of life will be turning up for work in military clothing, representing reservists from the Royal…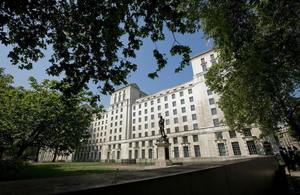 Up and down the country, people from every walk of life will be turning up for work in military clothing, representing reservists from the Royal Navy, the Army and the Royal Air Force.
Defence Secretary Dr Liam Fox said:
On Uniform to Work Day we should recognise the sacrifices our Reserve Forces make on our behalf. It may be that you find yourself sitting next to a reservist in military uniform on the bus or the train.

I encourage everyone to take the time to think about the work they do for our country.
There are more than 45,000 reservists in the UK Armed Forces, who are serving across the UK and overseas, including Afghanistan.
These men and women often bring the skills and training gained in their civilian careers to their military roles.
This is the third annual Uniform to Work Day. The event was founded by TA officer Colonel Alastair Bruce. He said:
On Uniform to Work Day we are encouraging those part-time soldiers, sailors and airmen who wish to be involved to arrange with their employer to go to work at their civilian jobs in military uniform.
At a time when approximately eight per cent of those people serving in Afghanistan are reservists, Uniform to Work Day is a chance for all of us to show our appreciation for the Reserves and to support their families, employers and work mates.
Currently 600 British reservists are serving in Afghanistan, working in a wide variety of roles from chaplains to combat infantry soldiers and from medical officers to media operations officers.
Like all British forces in Afghanistan, the reservists are protecting our national security as part of an international coalition of more than 45 nations, working alongside the Afghan National Army and Police.
Their efforts will bring security and stability to Afghanistan and prevent it from once again becoming a base from which terrorists can attack the UK and our allies around the world.
Group Captain Sandy Davie, DACOS Reserves, said:
The Royal Air Force continues to rely upon its volunteer reservists from the Royal Auxiliary Air Force to support not only operations in Afghanistan but also the unique demands of the airbridge that is necessary to deliver and support forces from all Services in that area.

At any time, over 20 per cent of the trained strength of the Royal Auxiliary Air Force are committed to operations. On Uniform to Work Day our reservists wear their uniforms with considerable and justifiable pride.
The day is part of a week-long series of events linked to Armed Forces Day, culminating with the national event in Cardiff on Saturday 26 June 2010.
Over 350 events are being held across the UK around 26 June to celebrate Armed Forces Day.
The day aims to raise awareness of, and support for, the Armed Forces and to highlight the outstanding contribution they make to our communities.
The Royal Family, Defence ministers and senior military and Civil Service figures will join people at events across the UK to celebrate the second annual Armed Forces Day on 26 June 2010.
The national Armed Forces Day event will be held in the city of Cardiff, including a parade of over 1,000 troops, cadets and veterans, and the famous Royal British Legion Riders on their motorbikes.
They will be led through the city to a special drumhead service attended by Their Royal Highnesses The Prince of Wales and The Duchess of Cornwall.
Throughout the day there will be a variety of displays, including a flypast by the Battle of Britain Memorial Flight and other aircraft, an opportunity to go on board the frigate HMS Kent, and in the evening a concert featuring The Soldiers and Only Men Aloud.
More information on events around the country can be found on the Armed Forces Day website - see Related Links.
Published 25 June 2010