Military deaths abroad investigated in Scotland
The Government is committed to supporting families of service personnel who have died while on duty abroad.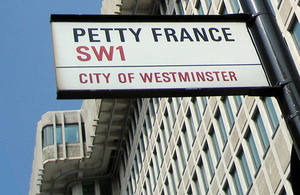 In reforming the coroners system, the Ministry of Justice has updated the law so, for the first time, the deaths of service personnel abroad can be investigated in Scotland.
Until now inquests into such deaths have been heard in England and Wales, meaning bereaved service families based in Scotland have often had to travel long distances to attend the inquest.
This change comes into force on 24 September 2012 when the first Chief Coroner of England and Wales, Judge Peter Thornton QC, will have the power to recommend to the Lord Advocate that an investigation should be transferred to Scotland.
Justice Minister, Helen Grant said:
'This is an important change in the law that will ensure deaths of service personnel killed abroad while on active duty can be investigated in Scotland.
'By updating the law and introducing a common sense approach to where such investigations are conducted, we can better support the families of those who have made the ultimate sacrifice in the service of their country.'
This new provision aims to reduce additional distress by ensuring that bereaved service families do not have to travel long distances to attend an inquest.
Published 17 September 2012