Military cadets discuss volunteering with Prime Minister
Two military cadets were among a select group of youngsters who recently met Prime Minister David Cameron to discuss the virtues of volunteering.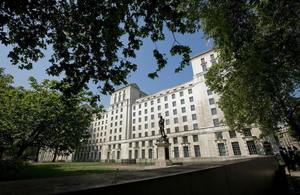 Cadet Flight Sergeant Asim Ahmad and Cadet Caroline Handford Chmaj took part in a roundtable discussion at Number 10 Downing Street last week hosted by Radio 1 Xtra DJ MistaJam. They spoke about what inspired them to get involved with the UK's Armed Forces and what their aspirations are for the future.
After the roundtable discussion the cadets spent some time with Mr Cameron and spoke to him about their experience of the military and the different skills they had learned as a result.
The visit was part of the National Citizen Service (NCS), the Government's flagship programme for young people in England which aims to promote a more cohesive, responsible and engaged society by bringing young people from very different backgrounds together to make a difference in their communities.
The NCS sees youngsters taking part in activities, field trips and group exercises, very like those the cadets already take part in, which is why it is hoped the two programmes will mesh well together.
Army Director Youth and Cadets, Brigadier (Ret'd) David Keenan, said:
The cadets have come through a process which is tailored to suit young people growing and developing in a very structured and safe way. Their self-assurance and the values that they need for life are writ large in the training programmes that they partake in.

These offer a wider range of skills and strengths that community kids may not necessarily have, such as leadership.
Cadet Flight Sergeant Ahmad is in the Kingston Grammar School Combined Cadet Force in Surrey and believes that being part of a volunteer organisation is beneficial for teenagers. He said:
Being involved in a youth organisation can help teach confidence, provide opportunities to learn life skills, the chance to make good friends, and you can help the wider community in which you live. That will contribute to making the city we live in a better and happier place. Most importantly it can be great fun!
Cadet Chmaj concurred:
One of the main reasons that I joined Army Cadets was because I find the things we do really fun," she said.

You have many opportunities to shine individually, and as a team. Outside our usual weekly meetings we go on shooting weekends, annual camp, fieldcraft weekends and sports competitions. Other things I am hoping to do in the Army Cadets which I couldn't do anywhere else are signalling and drumming courses, and I hope to do my Duke of Edinburgh here too.
Of her experience of visiting Number 10, Cadet Chmaj said:
Today was a unique experience and I will never forget meeting the Prime Minister. I enjoyed socialising with other volunteering societies, as well as the ACF [Army Cadet Force], and we talked about young people volunteering to change their community.

Many of the young people there had done really inspiring things and I was honoured to be part of it. It was a memorable day and one that I won't forget.
This summer over 600 cadets from the ACF and Combined Cadet Force will undertake a special pilot that matches the normal cadet training and activity programmes within the NCS.
Published 19 June 2012