Press release
Middlesbrough recycling firm fined £14,400
S B Recycling Ltd operated waste site without a permit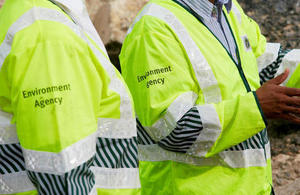 A Middlesbrough recycling firm has been fined £14,400 for operating a waste facility without an environmental permit.
S B Recycling Ltd, based in Normanby Road, was sentenced at Teesside Magistrates' Court on 16 September following an Environment Agency investigation into a South Bank site known as the Junction Works.
Prosecuting for the Environment Agency, Ros Scott-Bell told the court that illegal activities at the site were reported in 2012.
The Junction Works used to be used by a company called Skipfreight, but this had ceased trading and the associated environmental permit was no longer valid for new waste operations.
Malcolm Nee, a manager at S B Recycling who held the previous permit, was warned that he could not bring any waste onto the site without a valid permit.
But waste was deposited there regardless of the law. In November 2012, an investigating officer visited the site and found evidence that waste had been brought in and tipped in the yard.
Despite further warnings, S B Recycling has never made an application for an environmental permit. In court, the company admitted one charge of operating a waste facility without the required permit.
Jonathan O'Neill, Environment Officer at the Environment Agency, said:
S B Recycling operated a waste facility with a blatant disregard for the environmental permits that are required by law. In the first instance, the Environment Agency attempts to advise companies on how they can operate within the rules - but when significant breaches are seen, we will prosecute.

Companies that attempt to dodge environmental laws place the local environment at risk of pollution and they undermine legitimate businesses. Anyone who believes a waste site may be operating illegally is urged to inform the Environment Agency by calling our hotline, on 0800 807060.
As well as the fine, the company was ordered to pay costs of £2,008.35 and a victim surcharge of £120.
The court also made a wasted costs order of £300 against the firm's defence solicitor, David Scourfield of David Scourfield Solicitors, Middlesbrough. This was made following three ineffective hearings, earlier in the proceedings, that the court agreed had been the solicitor's fault.
Published 17 September 2014