News story
Mid-sized business boost in Turkey
The mission will be taking around 30 UK mid-sized businesses on a two day intensive visit to Turkey, where they will meet key figures from the…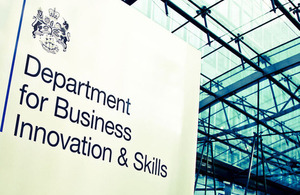 The mission will be taking around 30 UK mid-sized businesses on a two day intensive visit to Turkey, where they will meet key figures from the Turkish Government and business community. The UK companies, including Amino Technologies, Black Country Metals and Brompton Bicycles, will get the opportunity to build and strengthen new and existing links in a growing market.
Trade and Investment Minister, Lord Green, said:
"This is an exciting mission, the first of its kind, that brings together the opportunity offered by Turkey, one of the fastest growing economies in the world, and the export potential of the UK's mid-sized firms.
"The Government has set a clear target to get another 100,000 UK firms exporting as a key part of driving economic recovery. Direct engagement with key figures from the government and business community will help break down barriers and foster understanding that will lay strong foundations for future trade and investment."
John Cridland, CBI Director-General, said:
"This trade mission breaks new ground, as the first one designed specifically for ambitious mid-sized businesses. If we are to achieve the Government's ambition of doubling our annual exports by 2020 to £1 trillion, we must look beyond the BRIC countries to other successful, high-growth markets such as Turkey.
"Turkey has a dynamic, growing economy, with an increasingly aspirant middle class keen to buy the sorts of goods and services we excel at, such as construction, education, and high-value manufacturing."
The mission brings together the Department for Business, UK Trade & Investment and the CBI and their joint focus on helping to improve the performance of mid-sized businesses, announced as part of the Autumn Statement last year. A key element of the growth review, Business and Enterprise Minister Mark Prisk outlined the three key areas where mid-sized firms could improve their performance: harnessing leadership capability; supporting access to finance for investment and growth; and encouraging export as a strategy for growth.
The mission is a key part of the work to unlock growth among the UK's 10,000 mid-sized businesses. They have been described by the CBI as a "forgotten army" of businesses, representing 0.2 per cent of all UK firms but accounting for one fifth of private sector output and employment. In their "Future Champions" report the CBI set out, with the right conditions, MSBs could unlock up to £20 billion annual GDP in the next ten years.
The outcomes and experiences of this mission will help pave the way for future mid-sized business focused visits concentrating on key emerging markets.
Turkey is already an important partner for British businesses with trade currently worth more than £9 billion. Major British companies like BP, Tesco, Vodafone, and HSBC already have a strong presence in Turkey, but there is scope to strengthen this relationship further.
Notes for editors
The trade mission to Turkey will take place over 25 - 27 April and will be led by Trade and Investment Minister, Lord Green, John Cridland, Director-General of the CBI and Nick Baird, CEO of UKTI. The mission is taking around 30 UK based businesses and will focus its efforts to strengthening the understanding of the commercial environment in Turkey and the UK as part of its efforts to boost trade and investment links. Updates on the visit, including the latest news, video clips, interviews and blogs will be able to be found via the Department for Business website www.bis.gov.uk

Details of the visit, and of the companies forming the business delegation, can be obtained from the BIS press office on 020 7215 5361 or 5078.

At the Autumn Statement in November 2011, publication of the Growth Review announced a programme of work to boost growth of mid-sized businesses (MSBs) including £21bn of new funds, £10m to boost exports, a business school task force and Local Enterprise Partnership pathfinder projects to strengthen capability and a resource efficiency programme. In January 2012 BIS formally launched a national campaign to help raise the profile of MSBs working with, amongst others, UKTI, CBI, Telegraph Media Group, IoD, ICAEW and IFB.

BIS has worked closely with the CBI, who published their Future Champions report in October 2011, which is available at www.cbi.org.uk/media/1125696/future_champions__finalb_.pdf to concentrate on what can be done to boost the performance of the UK's middle sized firms, which they define by a turnover band of between £25m - £500m. Along with a national awareness raising campaign, the CBI are taking joint leadership with the programme of international trade missions, with the possibility of the next MSB focused trade mission to take place in September this year.

Details of the BIS programme of work on MSBs can be found here: http://discuss.bis.gov.uk/midsizereview/

BIS's online newsroom contains the latest press notices, speeches, as well as video and images for download. It also features an up to date list of BIS press office contacts. See [http://www.bis.gov.uk/newsroom](http://www.bis.gov.uk/newsroom) for more information.
Notes to Editors
Contact Information
Name BIS Press Office Job Title
Division Department for Business, Innovation & Skills Phone
Fax
Mobile
Email bispress.releases@bis.gsi.gov.uk
Name Lucy Bell Job Title
Division Department for Business, Innovation and Skills Phone 020 7215 5361 Fax
Mobile
Email Lucy.Bell@bis.gsi.gov.uk
Published 23 April 2012