World news story
British high school teacher Michael Tolerton presented with a MBE
From:

Part of:

Published:

14 January 2014

Last updated:

3 February 2014, see all updates
This was published under the 2010 to 2015 Conservative and Liberal Democrat coalition government
HMA James Dauris delivers medal at his Lima residence. Mr Tolerton received the MBE in recognition of his contribution to education and disability awareness over the last 25 years in Peru.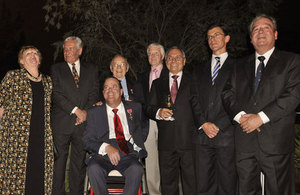 San Silvestre School teacher Michael Tolerton was presented with a MBE in a special ceremony held in his honour at HMA's James Dauris residence in Lima. The award recognizes Mr Tolerton's contribution to education and disability awareness over the last 25 years in Peru and was presented by Ambassador Dauris in the presence of Mr Tolerton, who has multiple sclerosis, was surrounded by family, friends, colleagues and students.
During the event, the Ambassador James Dauris highlighted Mr Tolerton's courage and determination on not letting his physical limitations interfere with the quality of his work.. Likewise, Mr Tolerton´s consistent courage seasoned with "sparks" of daily humour were repeatedly mentioned when speaking of him. Tolerton delivered an emotional appreciation speech recalling the difficulties of his everyday activities to keep on teaching with the same energy and dynamism. "I feel so honored, I want to thank you all and specially you," he said looking straight at his parents, who came all the way from his native Northern Ireland –from where Mr Tolerton arrived in Lima in 1989.
HMA Dauris, together with member of the British Community in Peru Roger Alderson and the Headmistress of San Silvestre School, Rina Bayly, nominated Mr Tolerton for the award. "Multiple sclerosis is a chronic degenerative disease that may have challenged his central nervous system, but nonetheless his great spirit has preserved his cognitive functions to continue with his biggest passion: teaching his students more than just a subject a road to overcome adversities with an optimistic smile," said of him Mr Alderson, a close friend.
Document information
Published: 14 January 2014
Updated: 3 February 2014
Ceremony held in Mr Tolerton's honour at HMA's James Dauris residence.
Added translation