Press release
Michael Spurr leaving role as Chief Executive of HMPPS
Michael Spurr will be leaving his role as Chief Executive of Her Majesty's Prison and Probation Service at the end of March 2019, after 35 years in the service and nearly 9 years leading it.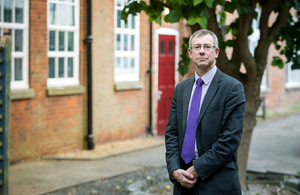 Richard Heaton, Permanent Secretary, said:
Michael is an exceptional public servant. His commitment to the organisation he leads, and to a humane and effective offender management system, has been unflinching, through a period when the system has faced extraordinary pressures, challenges and constraints.
Michael's leadership has been exemplary. But we now need to look ahead, building on Michael's work and developing a strategy for the next decade. I have therefore decided that April 2019 is the right time to ask a new chief executive to take on this important role."
Rt Hon David Gauke MP, Justice Secretary and Lord Chancellor, said:
I am extremely grateful to Michael Spurr for his leadership of HMPPS. His focus has been unwavering on doing the best for his staff and for victims of crime, on discipline in the prison estate and on caring for and rehabilitating offenders. He is an example of the very best of public service and civil service leadership. I look forward to continuing to work closely with Michael into the New Year.
The formal process to appoint Michael Spurr's successor will start in October this year.
Meanwhile, Michael Spurr remains chief executive of HMPPS, and will be a part of the team that will manage this transition safely and well.
Notes to editors:
The Permanent Secretary is taking this opportunity to review the top management structure for HMPPS.
Michael Spurr will remain in post as Chief Executive of HMPPS until the end of March 2019 and Michael will contribute to this work over the next 6 months.
Published 20 September 2018