World news story
Michael Fallon illustrates Prompt Payment Code experience in Milan
Minister explains benefits of PPC scheme at a conference in Italy organised by Assolombarda launching their code for responsible payments.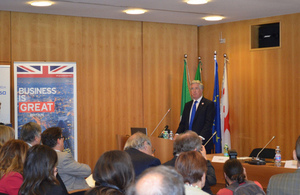 Michael Fallon, UK Minister of State for Business and Energy, was the guest of honour at a conference in Milan, Italy on 27 May 2014. The event promoted the new Codice Italiano Pagamenti Responsabili (CPR), the Italian Code for Responsible Payments launched by Assolombarda.
Assolombarda, the influential association of industry of the Lombardy Region and part of Confindustria, invited Minister Fallon to illustrate the experience acquired in the UK with the Prompt Payment Code.
This British scheme is adminstered by the Institute of Credit Management on behalf of the Department for Business, Innovation and Skills (BIS). It was used by Assolombarda as a starting point, and an example for the definition of their own project.
Prompt Payment Code
PPC, introduced in 2008, is a voluntary code to promote best practice in the supply chain. It covers companies with UK supply chains and includes:
most of the FTSE 100
a high proportion of FTSE 250
Signatories to the code commit to:
paying their suppliers within clearly defined terms
ensuring there is a robust process for dealing with any issues
As a result suppliers can:
build stronger relationships with their customers
be confident that they will be paid on time
be sure they are working with a business that values the service they deliver
Minister Fallon said in his speech to the audience:
This initiative certainly gives new impetus into the UK government's effort to support businesses and investors in achieving a strong, sustainable and balanced growth. It also provides the business community with a sense of clarity in the long term direction in which the government wants the economy to travel. One of its key ambitions is to encourage investments and exports as a route to a more balanced economy.
UK-Italy links
The economic and trade relationship between Italy and the UK remains important to both countries. Trade and investment is a well established and productive element of this bilateral relationship. It supports jobs in companies of all sizes, from start-ups through to large corporations. In 2013 UK/Italy bilateral trade in goods was valued at £ 23.5 billion. The value of UK exports of goods to Italy increased by 6%, from £7.9 billion in 2012 to £8.4 billion. The value of UK imports of goods from Italy also increased by 5%, from £14.3 billion to £15.1 billion.
Referring to the Anglo-Italian links Minister Fallon continued:
But I think we can do more and build on what we've got. We are particularly excited to participate in the Milan Expo in 2015, strengthening the commercial ties between the United Kingdom and Italy. The Expo is a very important event for all of us, and one which further demonstrates the trust and esteem that we have for Italy. Working together to address common challenges and opportunities both our countries face, to come up with ways to make Europe more competitive.
UK Trade & Investment is playing a vital role in strengthening our partnership and can help Italian firms as they look to expand their international footprint… Italy continues to be one of the biggest sources of investment projects, in Europe and across the world. The number of investment projects from Italy remains healthy, across a wide range of sectors from Automotive, Aerospace, to the Green Economy and Creative and Media. And those companies are now benefiting from the introduction of the Prompt Payment Code.
Assolombarda conference
The participation of Minister Fallon at the conference in Milan was supported by UKTI Italy. It had a wide coverage in the Italian national and economic press, a sign of the strong interest in the payments issue and in the British experience and business best practice.
Speakers at the conference included:
Roberto Maroni, President Lombardy Region
Gianfelice Rocca, President Assolombarda
Andrea Sironi, Dean of the Bocconi University Milan
Bocconi University was the scientific advisor for the project.
The Codice Italiano Pagamenti Responsabili has already been signed by 37 large Italian and Italy based multinational companies. It will also have positive effects on foreign suppliers, including UK partners.
Contacts
Raffaella Previtera, Head of Communications Team, communicationsmilan@fco.gov.uk
Published 13 June 2014