World news story
Mexico - Magna Carta Fund: call for proposals 2016
This Fund aims to complement the work of the FCO in the promotion and protection of human rights, democracy and the rule of law.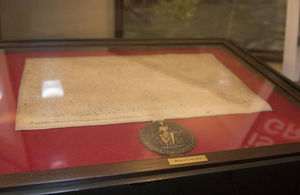 Magna Carta Fund For Human Rights and Democracy 2016-17
Background
The Magna Carta Fund for Human Rights and Democracy is the Foreign and Commonwealth Office (FCO) dedicated strategic programme fund supporting the United Kingdom's human rights and democracy work across the world. Its aim is to complement the work of the FCO in the promotion and protection of human rights, democracy and the rule of law through the implementation of targeted projects.
Call for Bids - Mexico
The 2016-17 call for bids reflects a recently agreed upon approach to the FCO's human rights and democracy work, introducing a reconfiguration of its framework into three inter-connected themes that provide the basis for our funding strategy: a. Democratic values and the rule of law - Upholding universal rights, democracy and the rule of law as key building blocks for more secure and prosperous societies. b. The rules-based international order - Supporting an effective rules-based international order that stands up for universal rights. c. Human rights for a stable world - Promoting a more stable world by upholding universal rights in tackling conflict and extremism.
Project Parameters
Projects can be one (2016-17) or two years long (2016-2018).
The MCFHRD has approximately 50% of the budget available for two-year projects. Two-year proposals must include budgets for both years. Please note, that funding in 2017-18 will be subject to budget availability and the FCO retains the right to stop a project after the first year if it does not deliver in line with FCO expectations.
MCFHRD will fund individual projects up to a maximum value of £400,000 per year.
These should be submitted to the Mexico Programme Team: ukinmexico.ccep@fco.gov.uk with the title "HRDP Concept Bid".
Multi-country Projects
The MCFHRD will continue to welcome multi-country proposals. Implementers must consult the relevant Embassies/High Commissions prior to final submission.
Projects focused on multiple countries in a specific region:
These projects must have a Post willing to manage the project. Multi-country projects do not count in the total number each Post is allowed to submit to the London programme board. For example, if BE Bogota submit four proposals to the London board, then they can submit an additional multi-country proposal, provided that they agree to manage that project and have the capacity to do so.
Multi-country projects working globally on a specific thematic issue:
These should be submitted directly to the Magna Carta Fund for Human Rights and Democracy team: HRD.Programme@fco.gov.uk
Multilateral Projects
The Fund will continue to welcome proposals that work to strengthen and implement the rules based international order. Projects focused on multilateral approaches to specific countries (e.g. UPR processes, ratifying Optional Protocols in a certain country etc.) should be submitted to country Post. Projects aimed at strengthening the multilateral system itself should be submitted to the relevant multilateral Post (UKMIS New York, UKMIS Geneva, UKDEL Strasbourg, and UKDEL Vienna). If in doubt, please contact the MCFHRD team for advice.
Eligibility / Selection Criteria
The MCFHRD accepts project bids from civil society, commercial organisations, governments, think tanks, other UK government departments and international organisations which comply with the following criteria:
Clearly demonstrate that they encompass at least one or more of the individual thematic priorities listed above.
Provide evidence of project sustainability and scalability.
Practical interventions with a clear impact on decision making. Projects focusing solely on research, analysis, seminars or workshops will not be accepted unless they lead to measurable actions and positive results.
Demonstrate that the host government has been consulted and is supportive. Otherwise, project proposal should explain how the project has sufficient "buy-in" from the necessary stakeholders to deliver the expected outcomes.
Have an adequate risk assessment strategy, including around human rights, and evidence of an on-going due diligence mechanism. See: Overseas Security and Justice Assistance Guidance.
Include a monitoring and evaluation plan that is in line with the FCO's policies.
Bids will also be assessed based on:
Value for money
Evidence of local demand / need.
Project viability, including the capacity and past performances of implementing organisation(s)
Project design, including clear, achievable objectives.
Good risk and stakeholder management.
Inclusion of British expertise, and/or partnerships with UK organisations.
*Please note that all bids must be written in English.
The Bidding Process
The bidding process is executed in three sequential stages:
Concept bid (high level project proposal): The British Embassy in Mexico City will review and assess all concept proposals and shall contact those successful implementing organisations, who will be invited to submit a Full Bid format. Deadline: February 05, 2016. The Project Concept Note template is available on the links listed below.
Guidance on what we look for in the key sections of the PCN:
Project title: a clear and concise title e.g. "Promoting Legal Protection for the Media in China".
Project purpose: In no more than one sentence, clearly state the change that the project will deliver. This is the reason the project should go ahead (you will expand on this in the section "what change the project will deliver").
Implementing agency: provide full contact details and the name of the agency's lead officer for the project.
What change the project will deliver: in one paragraph, explain what the project will achieve and how, be realistic and practical. Summarise the project outputs or expected results, and the main activities that support each output. Include a sentence describing the proposed steps to ensure the sustainability of project.
Background: in one paragraph, explain the country context and the problem that the project addresses, and how this relates to MCFHRD objectives. Explain why the UK is the best donor for this project.
Risks: provide brief details of any serious risks to the success of the project and how these will be mitigated.
Start and end date: Projects can start at any time. Single-year projects must be completed by March 2017, two-year projects must complete by March 2018.
Post comments: the project officer at the Embassy or High Commission must complete this section. The Embassy, High Commission or MCFHRD team may accept or reject the PCN. The bidder will be notified within a reasonable time of the decision.
*ALL PCNS MUST BE SUBMITTED IN WORD FORMAT. PDFS WILL NOT BE ACCEPTED
Full bid (detailed proposal): Successful implementing organisations will then be required to complete and submit a detailed form, known as "Full Bid proposal" accompanied by an "Activity Based Budget (ABB)" to the British Embassy in Mexico. At this stage, the Programme and Human Rights teams at the British Embassy in Mexico City reserves the right to select only those project proposals which are aligned to the local strategy on Human Rights. They will also perform eligibility checks and discuss with the implementer to ensure all relevant information has been included. Incomplete proposal forms will not be reviewed by the Post Programme Board. Deadline: March 04, 2016.
Key points to note for full bids are:
Part A should include both qualitative and quantitative milestones. Details of beneficiary group participation and needs should include an explanation of how this will be measured and demonstrated.

Part B of the form should be completed by the FCO. Proposals submitted by external partners should however include annexed evidence of:
previous experience delivering similar projects;
strong assessment of any human rights risks associated with the proposed activities; and
A clear statement of whether the implementer approves public reference to the project, with reasoning.
Monitoring methods should be robust, transparent and include scope for beneficiary input. The methods identified should be designed to give a meaningful assessment of the project's impact from a wide range of stakeholders.

Proposals must demonstrate a full assessment of project risks. Implementers should identify any risks which might apply to the project, what steps will be taken to mitigate those risks, and how risks will be reviewed during the project cycle. The implementer must have an internal due diligence process in place to monitor these risks.
Proposals will not be approved without realistic risk assessments. * Projects should be budgeted in Pounds Sterling and demonstrate value for money. ABB's should give a detailed breakdown of cost per activity per month. For example, when budgeting for travel, details should be provided to show cost per person, per flight, including departure and destination, class of travel and date window. Travel and accommodation costs should be in line with FCO guidance. * Strong proposals will spread the cost of the project throughout the year, avoiding where possible spend in the final quarter.
International Evaluation Board: Following evaluation in the Embassy, full bid proposals will be submitted to the Magna Carta Fund for Human Rights and Democracy Board, comprised of Human Rights experts at the FCO in London, for assessment. It is our aim to inform all successful bidders by May 06, 2016.
Terms of contract
Agreements will be subject to FCO standard contract terms:
The financial year runs from 1 April 2016 – 31 March 2017. For one year projects, all funded activities must start in May 2016 and be completed by 31 March 2017. Activities taking place after that date will not be funded. We aim to avoid spending in the final quarter where possible.
Bidding Process Timetable
| | |
| --- | --- |
| Dates | Activity |
| 18 Jan | Call for bids for the Magna Carta Fund for Human Rights and Democracy 2016-17 launched on gov.uk. |
| 05 Feb | Deadline for submitting concept bids. |
| 12 Feb | Results from the first round are given to implementers. |
| 04 Mar | Full Proposal deadline for implementers. |
| 06 May | Final results will be given to implementers. |
Links:
Concept Bid Concept Bid (ODT, 187KB)
Full Bid Full Bid (ODT, 206KB)
Example of an ABB Example of an ABB (MS Excel Spreadsheet, 52.5KB)
Published 25 January 2016