Press release
Merseyside beats global competition to build £200 million polar research ship
Cammell Laird in Birkenhead has been selected as the preferred bidder to build a state-of-the-art £200 million polar research ship.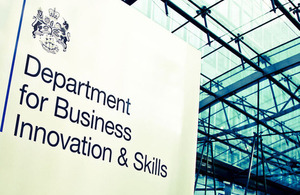 major boost to shipbuilding and jobs in the North West
ship will strengthen UK leadership in climate and ocean research
new research ship will operate in Antarctica and the Arctic
The government has today (12 October 2015) announced that Cammell Laird in Birkenhead has been selected as the preferred bidder to build a state-of-the-art £200 million polar research ship that will maintain the UK's position firmly at the forefront of climate and ocean research.
The decision follows a 12-month competitive tender process that involved bids from companies in the UK, Europe and the Far East. The winning project will secure jobs and apprenticeships and provide a significant economic boost to Merseyside.
The shipyard is expected to cut steel in autumn 2016 and deliver the next generation polar research vessel ready for operation by 2019.
Universities and Science Minister Jo Johnson said:
As a one nation government we are investing in science capital on a record scale. This £200 million investment secures the UK's position as a world leader in polar research and provides a major boost to shipbuilding in the North West.

Britain has long been a pioneer in ocean science, shipbuilding and manufacturing. Cammell Laird's success in this competition is testament to this expertise and our commitment to continue pushing the boundaries in marine science.
Chancellor of the Exchequer George Osborne said:
In last year's Budget I committed £200 million to help put Britain at the forefront of polar research, and I'm delighted to see the preferred bidder is a UK company in the heart of our Northern Powerhouse.

This will help secure vital jobs and apprenticeships in the North West and also make sure Britain stays at the cutting edge of polar research.
Cammell Laird Chief Executive John Syvret said:
The new contract, which will be finalised later this year, is expected to secure 400 jobs at Cammell Laird and a further 100 jobs within the local supply chain. Cammell Laird has a very successful apprenticeship scheme and would plan to recruit 60 apprentices throughout the term of the contract. Being selected as the preferred bidder in a global tender to undertake such an exciting and major infrastructure project is fantastic news for our workforce, the local region and the UK. We look forward to helping the UK explore the depths of the ocean and push the boundaries of UK science.
The new polar research ship, which will operate in both Antarctica and the Arctic, will be able to endure up to 60 days in sea-ice to enable scientists to gather more observations and data.
The ship will be the first British-built polar research vessel with a heli-deck to open up new locations for science and will be one of the most sophisticated floating research laboratories operating in the Polar Regions.
Tonne for tonne, the UK will have the most advanced oceanographic research vessel fleet in the world.
Robotic submarines and marine gliders will collect data on ocean conditions and marine biology and deliver it to scientists working in the ship's on-board laboratories.
Airborne robots and on-board environmental monitoring systems will provide detailed information on the surrounding polar environment.
Funding for the new polar research ship was announced in April 2014 as part of the government's science capital programme. Cammell Laird has been selected by the Natural Environment Research Council (NERC) through a full competitive procurement process.
NERC Chief Executive Professor Duncan Wingham said:
This new research ship, which is expected to become operational in 2019, will be equipped with onboard laboratory facilities and will be capable of deploying robotic technologies to monitor environmental changes to the polar oceans and will help UK scientists continue to lead the world in understanding our polar regions.

Changes in both the Antarctic and Artic marine ecosystems affect the UK's environment and economy, particularly in industries such as fishing and tourism. The Natural Environment Research Council funds polar research so that as a nation, we can develop policies to adapt to, mitigate or live with environmental change.

This new polar ship will be a platform for a broad range of science, researching subjects from oceanography and marine ecology to geophysics.
The new vessel follows in a long line of Royal Research Ships, including the RRS Discovery which today (12 October 2015) departs from London to Southampton after docking on the Thames to mark NERC's 50th anniversary.
The new ship will be operated by the British Antarctic Survey (BAS) and will be available to the whole UK research community, including for postgraduate training.
Director of British Antarctic Survey Professor Jane Francis said:
This new research ship will be a tremendous asset to the UK polar science community. Our science and operational teams have been working closely with research colleagues from Britain's leading universities and institutes to help create a world-leading science facility. We very much look forward to seeing our ideas become a reality. Crucially, the ship will have the capability to deploy advanced technologies being developed currently in the UK. These will allow us to capture new ocean and ice data from places that would otherwise be inaccessible. This is a very exciting time for UK polar science.
Notes to editors
Images
Broadcast-quality footage and stills showing existing polar ships in ice are available from British Antarctic Survey. Contact Linda Capper (details below).
Contacts
For enquiries on the procurement process please contact Julia Maddock on 01793 411539 or julddo@nerc.ac.uk
For enquiries on the ship's science and operational missions or to set up interviews with polar scientists please contact Linda Capper on 01223 221 448 or LMCA@bas.ac.uk
Notes
The government has committed to a real-terms investment of £6.9 billion in science capital up to 2021 and the new polar science ship will be delivered as part of this commitment.
Key facts about the new polar research ship:

the ship and associated upgrades to the UK's Antarctic infrastructure to accommodate the new vessel represents a capital investment of over £200 million by the UK government
it will be a state-of-the-art science platform to be used in both the Antarctic and the Arctic
it will act as a central hub for a range of data-gathering remote instruments and onboard environmental monitoring systems, including both marine and airborne robots
the ship will have a 'moon pool' which allows instruments to be deployed and collect data through an opening in the hull rather than over the side
it will be able to deploy and recover large remotely-operated and autonomous marine vehicles, such as NERC's autonomous submarine 'Autosub'
it will capable of carrying helicopters
the laboratory space will be flexible to meet the evolving needs of science over the lifetime of the ship.
it is expected to have ice-breaking capabilities that will allow it to break ice up to one metre thick when travelling at 3 knots
it will be able to accommodate up to 60 researchers and technical support staff
it will carry equipment capable of sampling and investigating the ocean abyss and the seabed
the ship will resupply the 5 UK research stations in the Antarctic operated by NERC's British Antarctic Survey

The contract to build the new polar research ship will be awarded according to European procurement rules with an open worldwide tender for the design and build contract.
Bids were received from shipyards in the UK, Spain, Norway, Singapore and South Korea.
Cammell Laird is one of the most famous names in British industry. The business is located on the River Mersey, in the Liverpool City Region, on the West Coast of England. It is in the centre of a marine cluster, with direct access to many support services. It has a 120 acre site with 4 dry docks, a large modular construction hall and extensive covered workshops. Cammell Laird specialises in military ship refit, commercial ship repair, upgrade and conversion and heavy fabrication and engineering. It deals with a wide variety of projects ranging from specialist offshore conversions and fabrication, commercial ship-repair through to the refit and upgrade of highly complex naval auxiliaries. It has also recently re-entered the ship-building market. The business is further active in the energy sector. It has become a hub of the offshore wind industry and it is offering its facilities and highly trained workforce of engineers for work in the civil nuclear sector and the off shore oil and gas sector.
NERC is the UK's main agency for funding and managing research, training and knowledge exchange in the environmental sciences. Its work covers the full range of atmospheric, earth, biological, terrestrial and aquatic science, from the deep oceans to the upper atmosphere and from the poles to the equator. It coordinates some of the world's most exciting research projects, tackling major issues such as climate change, environmental influences on human health, the genetic make-up of life on Earth, and much more. NERC is a non-departmental public body. It receives around £370 million of annual funding from the Department for Business, Innovation and Skills (BIS).
BAS, an institute of NERC, delivers and enables world-leading interdisciplinary research in the Polar Regions. Its skilled science and support staff based in Cambridge, Antarctica and the Arctic, work together to deliver research that uses the poles to advance our understanding of Earth as a sustainable planet. Through its extensive logistic capability and know-how BAS facilitates access for the British and international science community to the UK polar research operation. Numerous national and international collaborations, combined with an excellent infrastructure help sustain a world-leading position for the UK in Antarctic affairs. For more information, visit the http://www.antarctica.ac.uk/.
Published 12 October 2015