World news story
Merry Christmas from the British Ambassador to Iceland
Merry Christmas from HM Ambassador Stuart Gill and a reflection on his first year in Reykjavík.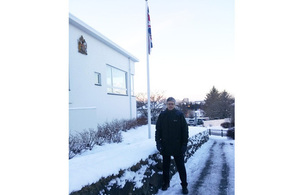 "As Christmas approaches, I look back on my first year in Iceland as British Ambassador, a year to remember – for me, my wife Maggie, and the British Embassy. I must thank everyone here for being such welcoming and generous people. We have been truly staggered by the beauty of Iceland, a country so rich in extraordinary features and spectacular countryside. A short drive from our home in Reykjavik finds us in stunning surroundings, in winter or summer. In our four years here we will do our utmost to get round the whole of this fabulous island.
Much has changed in my short time here. Iceland has a new government, the EU accession negotiations are on hold and Iceland's victory in the EFTA court case over IceSave changed, overnight, the nature of UK-Iceland engagement – for the better, I should add.
Our two countries have much to look forward to as we contemplate the prospects for 2014, not least in our commercial relationship. More civil aircraft leave Reykjavik bound for London than any other destination, British tourists are coming here in ever-increasing numbers, Icelandic companies look more and more to the UK as their international business hub, and Iceland's exports of their fabulous fish creates and sustains thousands of jobs in the likes of Humberside.
Most exciting of all, perhaps, is the prospect that our two countries might one day be connected by an electricity interconnector. Much needs to be done before we get there, but I look forward to working towards this during the rest of my time as British Ambassador.
I could list so many more things our two countries are doing together (and probably will from time to time!), but I'll keep this message short and wish everyone a Merry Christmas and Happy New Year."
HM Ambassador Stuart Gill
Published 23 December 2013