Merlin helicopter bound for Middle East operations
A Merlin helicopter from 829 Naval Air Squadron, based at Royal Naval Air Station Culdrose, is on board HMS Somerset bound for maritime security operations in the Middle East.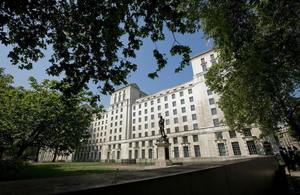 A key facet of HMS Somerset's security patrol is boarding operations. The crew has been preparing for this deployment since returning from the Gulf in December last year and have been rehearsing drills throughout the ship's transit into the theatre of operations.
An end to the regional monsoon season is expected to herald an increase in illegal activity in the area.
The ship's crew of 180 has been increased to 205 by the embarkation of a Royal Marines boarding team from the Fleet Protection Group Royal Marines (FPGRM) in Scotland, and the members of 829 Naval Air Squadron's Merlin Flight.
Also known as the 'Kingfishers', 829 Squadron usually provides Merlin helicopters for operations from Type 23 Frigates, and for ships of the Royal Fleet Auxiliary.
HMS Somerset uses her helicopter and long-range sensors to detect and identify suspicious vessels, and conducts boarding operations from the sea or air.
829 Squadron's French Exchange Officer, Capitaine de Corvette (equivalent to the Royal Navy rank of Lieutenant Commander) Fabrice Dehandschoewercker, said:
The flight from 829 Naval Air Squadron worked very hard before the deployment to be ready in all respects. It commenced with FOST-covered Directed Continuous Training, following by a really tight training program ashore. Having fully integrated with Somerset's ship's company we are now on task in our operating areas.

Working together, Merlin and Somerset are now acting as a cohesive military unit, providing extended operating ranges and speed of response.

Conditions are tough and the program really busy. Nevertheless, we enjoy being here and all understand the importance of our mission: deterring threats to the global economic recovery in one of the world's busiest sea lanes.
During a brief period alongside in Aqaba in southern Jordan, Somerset's boarding team trained with the Royal Jordanian Navy. Both Jordanian and British teams exchanged ideas on tactics and operating procedures on a training rig.
On sailing from Aqaba, HMS Somerset conducted manoeuvres with the Royal Jordanian Navy's fast patrol boat 'King Abdullah' to help reinforce international partnerships.
HMS Somerset and her Merlin helicopter will remain at readiness to respond to any tasking, ranging from humanitarian aid to conflict, and the ship is due to return to the UK in the New Year.
The Merlin is large enough to carry Royal Marines for sniper operations and boarding via fast roping, both of which are vital to counter the threat of pirates, and it can be fitted with heavy duty machine guns and thermal imaging equipment.
The Royal Navy conducts maritime security operations under international maritime conventions, ensuring security and safety in international waters.
Policing the shipping includes counter-terrorism, anti-piracy operations, and preventing drug and people smuggling.
Published 16 September 2011