World news story
Memories of 2013
This was published under the 2010 to 2015 Conservative and Liberal Democrat coalition government
Watch our Ambassador's Christmas and New Year video message.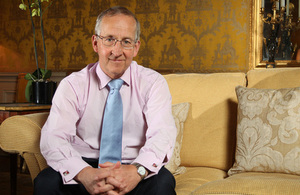 This Christmas time I've been thinking about what was achieved in 2013 and what we have to look forward to in 2014. When I look back at 2013, it was a bumper year for UK-French relations (…)
We've done important work with the French in the commercial world. Major agreements have been signed with EDF and Areva for a new generation of nuclear power stations in the UK. We've also worked very well with the French on foreign affairs and managing crises.
For me the year has been marked at the beginning by the French intervention in Mali where we helped with our own Royal Air Force transport aircraft and at the end with French action in the Central African Republic – and again the RAF have been there in support of France.
2014 is (…) going to be a very special year for commemorations. For example, the 20th anniversary of the opening of the Channel Tunnel by Her Majesty the Queen and President Mitterrand. The 70th anniversary of D-day, which will be a major occasion with the veterans on the beaches of Normandy. The 100th anniversary of the start of the First World War, which Britain will be commemorating in a number of key locations around France.
And then, closer to home, the 200th anniversary of the Duke of Wellington buying this wonderful house from Pauline, the sister of Napoleon.
Document information
Published: 20 December 2013