Memorial Flight Lancaster gets new identity
The Royal Air Force Battle of Britain Memorial Flight Lancaster has taken on the new 'identity' of 617 Squadron Lancaster B1 DV385, 'Thumper Mk III'.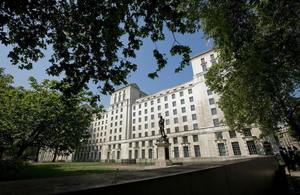 DV385 was one of the brand new standard Lancasters issued to 617 Squadron as replacements after the Dams Raid over Germany in 1943.
The plane flew a total of 50 operations, of which 37 were successful (bombs dropped). 35 operations are shown on the 'bomb log' under the cockpit of the 'new' DV385 in the form of a wartime photograph.
The bomb symbols include one with a 'D' for Operation Taxable, the 'spoof' D-Day chaff mission on 5/6 June 1944, and one with a swastika denoting a kill against a German fighter.
During its time the original Thumper Mk III dropped a total of 15 Tallboy bombs and also dropped five 12,000-pound (5,400kg) HC blast bombs. It was involved in many important missions, including the first Tallboy raid against the Saumur railway tunnel in the Loire valley on 8 June 1944 and many raids against 'V' weapon sites.
Between February and August 1944, the aircraft was mostly flown by then Flying Officer (later Flight Lieutenant) Bob Knights DSO DFC and his crew (they flew 28 ops in Thumper, of which 23 were successful).
On 7 August 1944, a skeleton crew of Flying Officer Bob Knights and his Flight Engineer, Flying Officer Twells, delivered the aircraft to Coningsby for modifications to be carried out.
Wing Commander John Bell DFC was the bomb-aimer on Flying Officer Knights' crew with 619 Squadron and then with 617 Squadron and flew with Flying Officer Knights on the 29 missions he completed in Lancaster DV385.
There will be an official event on Thursday 27 September when John Bell will come and see the 'new' DV385 bearing the same colour scheme as the original.
He said:
I am shaking with excitement at this news that my old warhorse will be reincarnated. I want to get involved with this project in any way I can!
The new nose art features 'Thumper', the cartoon rabbit from the 1942 Walt Disney film 'Bambi', holding a foaming pint of beer.
Published 10 September 2012