News story
Meet the GLS on campus
Details of the law fairs to be attended by the GLS during 2014.
This news article was withdrawn on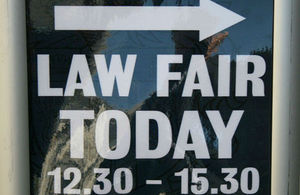 Over the next few months, the GLS will be out on the road visiting law fairs across England and Wales. GLS lawyers and trainees will be attending the events listed below and will be happy to answer any questions you may have about our work, our legal trainee scheme and how you can join us.
To find out about how you can attend these law fairs, please contact the university careers teams directly.
| University | Date | Time |
| --- | --- | --- |
| City University | 15 Oct | 1.30pm to 4.30pm |
| University of Westminster | 15 Oct | 1pm to 6pm |
| University of Northampton | 16 Oct | 11am to 2pm |
| University of Nottingham | 20 Oct | 1pm to 4pm |
| SOAS, University of London | 20 Oct | 1pm to 4pm |
| King's College, London | 22 Oct | 12.30pm to 3.30pm |
| University of York | 22 Oct | 12pm to 3pm |
| University of Cambridge | 23 Oct | 1pm to 4.30pm |
| Queen Mary, University of London | 27 Oct | 3pm to 7pm |
| University of Leeds | 30 Oct | 11am to 3pm |
| Cardiff University | 4 Nov | 1.30pm to 4.30pm |
| University of Liverpool | 4 Nov | 11am to 2pm |
| Bristol University | 5 Nov | 12.30pm to 3.30pm |
| University of Reading | 5 Nov | 2pm to 4pm |
| London School of Economics | 6 Nov | 5.30pm to 8pm |
| University of Oxford | 8 Nov | 11am to 3pm |
| University College London | 11 Nov | 5.30pm to 8pm |
| University of Warwick | 11 Nov | 1pm to 4pm |
| University of East Anglia | 12 Nov | 12pm to 3pm |
| University of Birmingham | 12 Nov | 1pm to 3.30pm |
| University of Essex | 13 Nov | 6.15pm to 8pm |
| University of Manchester | 18 Nov | 12.30pm to 4pm |
| University of Sheffield | 19 Nov | 12.30pm to 3.30pm |
| University of Southampton | 20 Nov | 6pm to 9pm |
| Durham University | 26 Nov | 12pm to 3.30pm |
| London Law Fair | 26 Nov | To be confirmed |
Published 16 October 2014