World news story
Meet the 4 designers seeking to put Australasian fashion on the map
Australian Fashion Council London Designers Abroad Programme announces the 4 Australasian designers that will showcase at London Fashion Week 2018.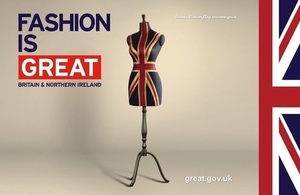 The UK's Department for International Trade (DIT), together with partners, the Australian Fashion Council (AFC) and British Airways are delighted to announce Manning Cartell, Pared Eyewear, We are Kindred and New Zealand designer Harman Grubiša, as the 4 successful fashion designers to join the AFC London Designers Abroad Programme 2018.
Securing a highly sought-after place on the programme, the fashion retailers will meet buyers, mentors, ordinarily inaccessible contacts and influencers in the world of fashion, to assist their expansion into the UK and provide support where needed. Participation in a wider, specially created business programme will provide additional insights and guidance to help the brands to establish a presence in the UK.
With over 40% of all money in London being spent on retail each year (approximately £64.2 billion), the UK is the leading destination for Australian fashion retailers to expand internationally.
Michael Ward, British Consul-General to NSW and Director-General, UK Department for International Trade, Australasia said:
I'd like to congratulate the 4 fashion retailers selected for the AFC London Designers Abroad Programme 2018 – it's a fantastic opportunity and we're delighted to assist these talented companies in their quest to expand to the UK.

The calibre of entries was exceptionally strong. The DIT team are here to support all Australian and New Zealand companies with UK ambitions.
The successful fashion retailers will fly to London to take part in London Fashion Week in February courtesy of British Airways, the AFC London Designers Abroad Programme 2018's Official Airline partner.
Nicole Backo, British Airways' Regional General Manager, South West Pacific said:
British Airways is thrilled to be the official airline partner for this special initiative with the UK Department for international Trade and the Australian Fashion Council.

It provides aspiring Australian talent with the exciting opportunity to showcase their designs on the ultimate global stage at London Fashion Week. As an airline, we have been flying to Australia for over 80 years, and we operate a daily service between Sydney and London Heathrow.

We are always proud to be involved in opportunities to share talent between these 2 extraordinary countries.
Edwina McCann, Board Director of the Australian Fashion Council and Editor in Chief of Vogue said:
Designers Abroad is now a well-established programme and it's exciting to work with the British Fashion Council to take it to London where there is such a wonderful connection between our countries.
Visit our invest site if you're keen to learn more about setting up your fashion retail business in the UK.
London Fashion Week on Twitter
Stay up to date with the first steps of the designer's global expansion beginning at London Fashion Week on twitter here @TradeGovUKAus.
About the UK Department for International Trade
The UK's Department for International Trade (DIT) has overall responsibility for promoting UK trade across the world and attracting foreign investment to our economy.
We are a specialised government body with responsibility for negotiating international trade policy, supporting business, as well as delivering an outward-looking trade diplomacy strategy.
AFC London Designers Abroad Programme 2018
Key partners on the AFC London Designers Abroad Programme 2018 include:
Woolmark Company
the UK's Department for International Trade
Australian Fashion Council
British Airways
AFC's existing partners include:
AMP Capital
Commonwealth Bank of Australia
Australian Department of Foreign Affairs and Trade
Published 25 January 2018