Meet Emma Jones, our new Small Business Crown Representative
Crown Commercial Service welcomes entrepreneur and author Emma Jones MBE, in her new position as Small Business Crown Representative
This news article was withdrawn on
As of January 2019, Emma Jones is no longer the Crown Representative for Small Business.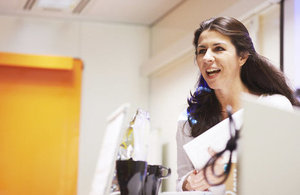 Leading entrepreneur Emma Jones MBE, has been appointed as Small Business Crown Representative.
In her new position, working with government departments and the Crown Commercial Service, Emma will help smaller businesses in the UK bid for and win important government contracts.
This supports the government's manifesto commitment to spend £1 in every £3 with SMEs by 2020.
What exactly does the Crown Rep do?
The Crown Representative for SMEs is the voice of smaller businesses, at the centre of government. Their aim is to support the government's target of one third of procurement spend flowing directly or indirectly to SMEs.
Working with both government departments and small businesses, the Crown Rep will:
raise awareness in government of the value that small businesses bring

bring both sides to to break down barriers and encourage ongoing communication

ensure that small firms understand the changes government is making, so that bidding for and winning opportunities is easier

act as an intermediary, working with the Crown Commercial Service and other departments and crown reps, to identify opportunities to drive up direct and indirect spend with small businesses
Speaking about her new appointment, Emma said:
I'm delighted to be working in the role of SME Rep and helping realise the target of £1 in every £3 spent with small business by 2020. Entrepreneurs and founders are always on the look-out for new contracts and markets, and government represents a large one!
Over the next 12 months, I'll be supporting small businesses in getting tender ready, connecting them with buyers from central government and tier one suppliers, and shining a spotlight on those who have successfully made sales.
Contact Emma with your stories or questions via twitter @smecrownrep
Published 17 July 2016